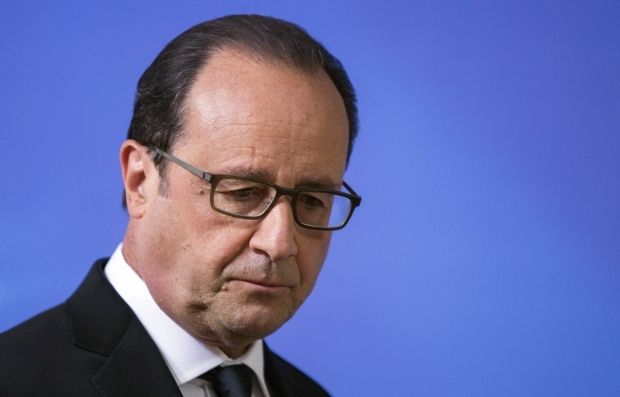 REUTERS
"This is an attack not just on Paris. It's an attack not just on the people of France. But this is an attack on all of humanity and the universal values we share," he said, CNBC reported.
While the U.S. president said "we're going to do whatever it takes to work with the French people and with nations around the world to bring these terrorists to justice," he stressed that his office did not yet know all the details of the attacks, so the U.S. would not speculate who may have been behind the attack.
"This is a heart-breaking situation, and obviously those of us here in the United States know what it's like. We've gone through these kinds of episodes ourselves, and whenever these kinds of attacks happen, we've always been able to count on the French people to stand with us," Obama said. "They have been an extraordinary counter-terrorism partner, and we intend to bear with them in that same fashion."
Hollande delivered remarks soon after Obama, saying his country has "mobilized all the possible forces for neutralization of terrorists," according to a translation from his official Twitter account.
Hollande also announced that the "state of emergency will be declared and the borders will be closed," and he called for his nation to "show unity and cold blood."
French special forces evacuate people, including an injured man holding his head, as people gather near the Bataclan concert hall following fatal shootings in Paris, France, November 13, 2015.
French media say at least 60 people were killed Friday in shootings and explosions around Paris, many of them in a popular concert hall where about 100 patrons were taken hostage, police and medical officials said. A French police official confirmed that two of them were suicide attacks.
A police official said 11 people were killed in a Paris restaurant in the 10th arrondissement, and others said at least twice that number died elsewhere, primarily in the Bataclan Music hall, where the hostages were taken.
The officials spoke on condition of anonymity because they were not authorized to be publicly named in the quickly moving investigation.
According to a Reuters report, five explosions were heard at the Bataclan Music Hall where hostages were being held.
German Chancellor Angela Merkel said Friday evening that she was deeply distressed by the news and images from Paris, and that her thoughts were with the victims.
Other European officials were quick to comment on the incident, with European Council President Donald Tusk tweeting that he was shocked by the attacks, and he offers his "full solidarity & sympathy with the French people and authorities."