Obama, Putin hold unscheduled talks at G20 summit; discuss Ukraine, Syria: AP
19:21, 15 November 2015
World
U.S. and Russian presidents have had an informal 20-minute meeting on the sidelines of the G-20 summit in Turkey's Antalya, discussing Ukrainian and Syrian conflicts, according to the Associated Press.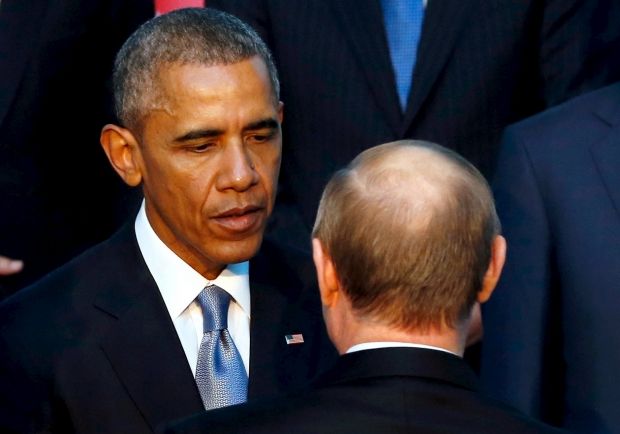 REUTERS
The two leaders chatted in a foursome with Obama's national security adviser Susan Rice and a Russian aide, the Associated Press reported.
The White House says the 35-minute meeting centered on talks to end Syria's civil war and that the two leaders agreed that the country needs a political transition led by Syrians. The transition would be preceded by negotiations mediated by the United Nations and a cease-fire.
The White House says the two leaders also discussed the conflict in Ukraine and that Obama expressed condolences for the victims in the Russian plane crash last month in the Sinai Peninsula.
Obama and Putin both leaned in close to each other as they talked, with Obama gesturing expressively with his hands.
Barack Obama and Vladimir Putin have negotiated not far from the coffee table in the break between the summit of the BRICS member states and the working meeting of the G-20, according to TSN.ua
It is noted that Vladimir Putin and Barack Obama also managed to exchange a few words during the official photoshoot ceremony.
As reported, the G-20 summit opened today in Antalya, Turkey. The main issue on the economic agenda is  the reform in IMF's lending policy. It is also planned to complete the adoption of the Plan to counter Base Erosion and Profit Shifting. Much attention is paid to problems of environmental pollution and global warming.
Read alsoSecurity issues occupy centre-stage at G20 summitThe first plenary session of the summit will focus on the global economy, investment, growth strategies, reducing unemployment and stimulating economic development at the global and national levels, as well as investment programs.
If you see a spelling error on our site, select it and press Ctrl+Enter