IS shows photo of bomb that downed A321: Reuters
18:20, 18 November 2015
World
Islamic State's official magazine carried a photo on Wednesday of what it said was the improvised bomb that brought down the Russian airliner over Egypt's Sinai Peninsula last month, killing all 224 people on board, Reuters reports.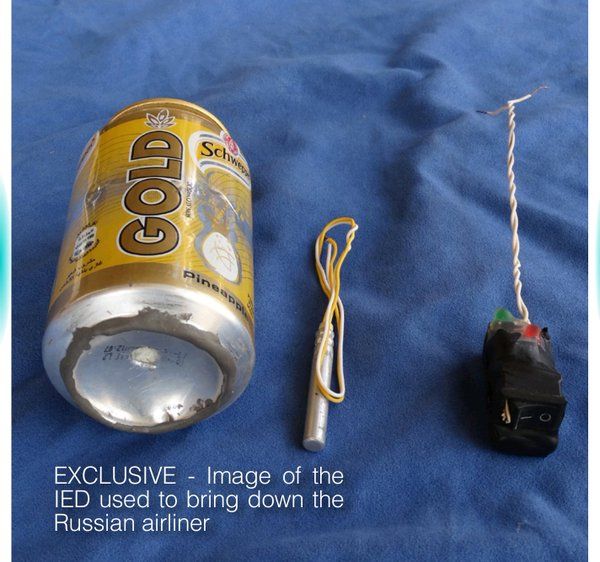 twitter.com/gcaw
"The divided Crusaders of the East and West thought themselves safe in their jets as they cowardly bombarded the Muslims of the Caliphate," Dabiq magazine said, according to Reuters. "And so revenge was exacted upon those who felt safe in the cockpits."
The photo showed a can of Schweppes Gold soft drink and what appeared to be a detonator and switch on a blue background.
Read alsoRussia confirms bomb downed its plane over Egypt – ReutersIslamic State said it had exploited a loophole at Sharm al-Sheikh airport, where the Airbus 321 originated, in order to smuggle a bomb on board.
"A bomb was smuggled onto the airplane, leading to the deaths of 219 Russians and 5 other crusaders only a month after Russia's thoughtless decision [to launch military campaign in Syria]," the group said.
As UNIAN reported ealier, the FSB security service chief told a that traces of foreign-made explosive had been found on fragments of the downed plane and on passengers' personal belongings.
"According to an analysis by our specialists, a homemade bomb containing up to one kilogram of TNT detonated during the flight, causing the plane to break up in midair, which explains why parts of the fuselage were spread over such a large distance," Bortnikov said, Reuters wrote.
"We can unequivocally say it was a terrorist act," Bortnikov said.
If you see a spelling error on our site, select it and press Ctrl+Enter