FT: Mali hotel siege ends with many dead
23:37, 20 November 2015
World
Islamist gunmen stormed a luxury hotel in Mali's capital Bamako on Friday, leaving more than 20 people dead at the end of a day-long siege involving 170 hostages, including many foreigners, according to The Financial Times.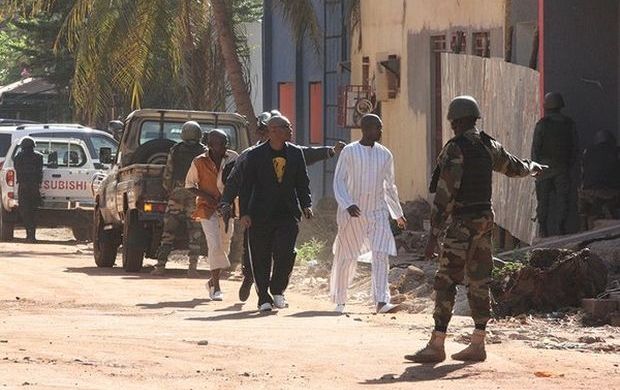 Mali has struggled to root out the remnants of an al-Qaeda-linked insurgency after a French-led military intervention / Photo from twitter.com/DailySabah
Malian special forces supported by UN peacekeepers went room to room pursuing the gunmen, who were believed to be holed up on the top floor, said Olivier Salgado, a UN mission spokesman, the FT reported.
Reuters news agency quoted a UN official saying that peacekeepers aiding the Malian soldiers had seen 27 bodies littering two floors.
Announcing the end of the siege on state television, Salif Traore, the interior minister, said that 76 people had been freed — leaving many of the hostages unaccounted for.
The minister said two attackers had been killed, but on Friday evening Malian forces were still trying to dislodge an unknown number of gunmen still in the hotel, Reuters reported.
Al-Mourabitoun, an African jihadi group based in northern Mali and affiliated to al-Qaeda, said it was behind the attack, although the claim could not be verified. Some of the group's followers, mainly from Arab and Tuareg ethnic groups, are loyal to the veteran al-Qaeda fighter Mokhtar Belmoktar, from Algeria.
Although part of al-Mourabitoun pledged allegiance to Isis in May, Virginia Comoli, of the International Institute for Strategic Studies in London, said the group's main allegiance is more likely to lie with al-Qaeda's regional affiliate, al-Qaeda in the Islamic Maghreb.
Mali has struggled to root out the remnants of an al-Qaeda-linked insurgency after a French-led military intervention in 2013 pushed militants out of the northern territory they seized.
Northern Mali is home to minority Tuareg and Arab ethnic groups long marginalised by the central government.
Some of these groups allied with radical Islamists during the recent insurgency, but have since vowed to comply with a peace deal signed earlier this year. However, the deal's implementation has been hampered by mistrust on all sides.
The UN and western and regional governments worry that the vast expanses of the Sahara desert provide a haven for Islamist militants who are also active farther north and east in Algeria and Libya, where some groups have pledged allegiance to Isis.
The attack began early on Friday when gunmen armed with automatic rifles, yelling "Allahu akbar!" ("God is great!"), stormed the Radisson Blu hotel in a western district of the capital, home to diplomats and government ministries.
The hotel is popular with foreigners, and those inside at the time of the attack were reported to include U.S., Turkish, Chinese, Belgian and French nationals.
If you see a spelling error on our site, select it and press Ctrl+Enter