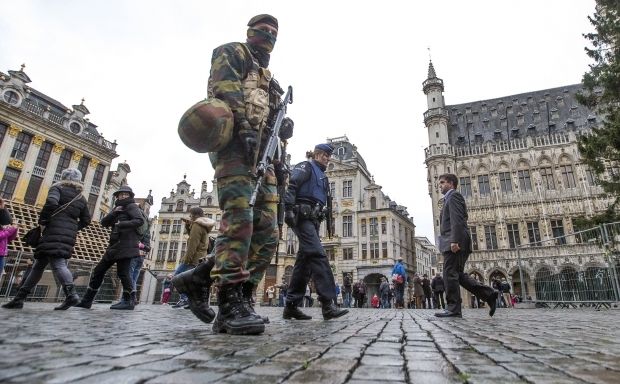 REUTERS
On the third day of an unprecedented lockdown of the Belgian capital, officials here remain tight-lipped about the biggest security operation mounted in the country since World War II, VOA wrote.
On Sunday night, 16 suspects were arrested in more than 19 raids in Brussels and outlying towns to the east and south of Belgium's capital, which is also home to the main European Union institutions. Authorities announced five new arrests on Monday. But Belgian security officials admitted to VOA they don't believe they have yet rolled up a terror network they say is planning to mount more attacks similar to those that struck Paris November 13 and left 130 people dead and more than 350 injured.
Counter-terror units were active Monday in Liege, Belgium, apparently chasing tips that Abdeslam was spotted in a BMW there. Liege is less than a half hour's drive from the German border and close to the Belgian town of Verviers, where in January Belgian police units were involved in a gunfight with jihadists. A local media outlet reported that the 26-year-old Frenchman and former petty criminal managed to break through a police cordon near Liège, but officials refused to confirm or deny the claim.
If true, the escape from police clutches near Liege would be the second time Abdeslam has been close to capture. Just hours after the Paris attacks, Abdeslam was stopped by French police near the border with Belgium in a car with two other men and was questioned but let go. At the time, his involvement in the attacks was not known, so there was no alert out on him.
Belgian security sources told VOA they believe Abdeslam is receiving help from jihadist networks to evade capture, despite the fact that the fugitive told friends in Skype conversations, according to an ABC News report two days ago, that the Islamic State was unhappy with him after he failed to detonate his suicide vest. They said he was still desperate to get to IS territory in Syria.