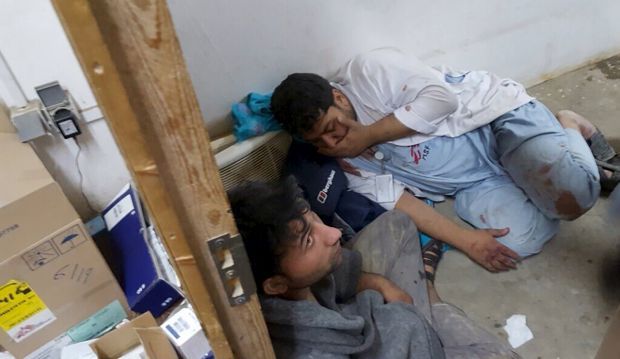 REUTERS
Briefing reporters on the results of two investigations, Gen. John Campbell, the U.S. commander in Afghanistan, described an egregious series of human and technical failures that led a U.S. warplane to destroy a medical charity's hospital in northern Afghanistan last month, Yahoo! News reported with reference to AP.
Campbell and other officials would not say how many people had been removed from their jobs nor whether anyone higher in the chain of command would be subject to discipline.
"This was a tragic but avoidable accident caused primarily by human error," Campbell said.
Officials said the crew of an AC-130 gunship had been dispatched to hit a Taliban command center in a different building, 450 yards away. However, hampered by problems with their targeting sensors, the crew relied on a physical description that led them to begin firing at a hospital run by the Doctors Without Borders, a medical charity, even though they saw no hostile activity there.
Many chances to avert the error were missed, officials said.
Asked whether the scale of the air attack — even if it had hit the correct target — was justified under the U.S. rules of engagement and international laws governing armed conflict, the actions taken by the U.S. aircrew were "not appropriate" to the threat they faced, said Campbell's spokesman, Brig. Gen. Wilson Shoffner. He declined to be more specific.
Campbell and Shoffner said that neither the Special Forces commander who called in the strike at the request of Afghan forces, nor the aircrew, was aware that a hospital was being hit until it was too late. The generals did not address claims by Afghan officials that the hospital had been overrun by the Taliban, but a copy of one of the investigations, obtained by The Associated Press, says there is no evidence to support that. It also says there was no hostile activity observed at the hospital.
The plane fired 211 shells at the compound over 29 minutes before commanders realized the mistake and ordered a halt, according to the report. Doctors Without Borders contacted coalition military personnel during the attack to say its facility was "being 'bombed' from the air," and the word finally was relayed to the AC-130 crew, the report said.
The report said the October 3 attack in the city of Kunduz killed at least 31 civilians and injured 28 others. Investigators determined that additional civilians probably were killed or injured.