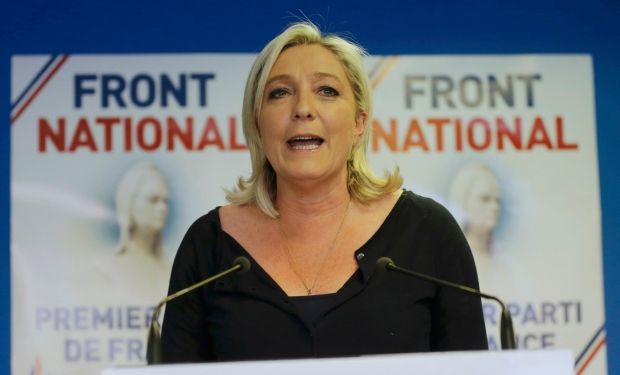 REUTERS
They put the FN ahead in at least six of 13 regions in mainland France, The BBC said.
The elections are the first electoral test since last month's Paris attacks, in which 130 people were killed.
The centre-right Republicans party led by former President Nicolas Sarkozy appeared to be in second place ahead of the governing Socialist Party.
Exit polls from Sunday's vote predicted that the FN had won 30.8% of the vote, followed by Sarkozy's Republicans on 27.2% and President Francois Hollande's Socialists with 22.7%.
FN leader Marine Le Pen, who stood in the northern region of Nord-Pas-De-Calais-Picardie, and her niece Marion Marechal-Le Pen, who stood in Provence-Alpes-Cote d'Azur in the south, both looked to have won more than 40% of the vote, polls predicted, breaking previous records for the party.
The message from the first round of France's regional elections is simple and unequivocal – once again the far right has come out on top, The BBC said.
For the third time in a year and a half, Marine Le Pen can legitimately say that her National Front is the country's most popular party.
It is an astonishing performance for a party that until very recently was regarded as beyond the pale, The BBC said.
The Paris attacks will have played a part in this but it would be wrong to ascribe Ms Le Pen's triumph solely to fears of terrorism. Her party has been on a steady upward slope for four years. The problems that worry voters are as much economic and social as they are security-related.