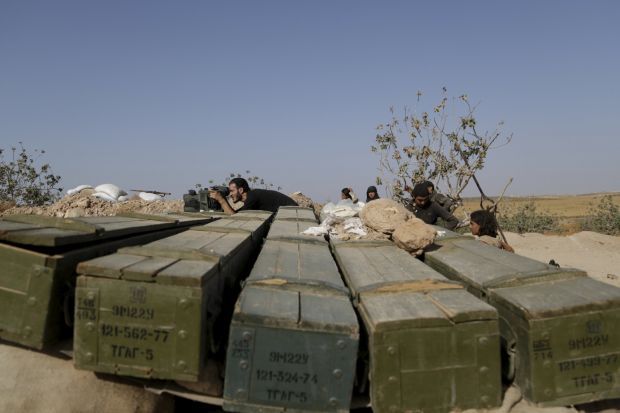 REUTERS
The Russian president announced this during his speech at an enlarged meeting of the Defense Ministry Board, according to a posting on the president's official website.
According to the president, the Russian air force in Syria has contributed to uniting efforts both of the government forces and the Free Syrian Army.
"Currently, some of its [Free Syrian Army] units totalling more than 5,000 men and the regular forces are conducting offensive operations against terrorists in the provinces of Homs, Hama, Aleppo and Al-Raqqah. In addition, we support them from the air, as we support the Syria army, providing them with arms, munitions and materiel," Putin said.
A few hours later, Kremlin spokesman Dmitry Peskov told reporters that Putin had been talking about weapons supplies to the armed forces loyal to Assad, Reuters wrote.
"No, Russia is supplying weapons to the Syrian Arab Republic, to Syria's legitimate authorities," Russia's TASS quoted Peskov as saying when asked whether Russia supplied arms to the so-called moderate opposition in Syria.
But Peskov did not say Putin had been mistaken or misquoted about supplies to the Free Syrian Army and did not deny weapons were going to the opposition force, Reuters said.
"Dialogue is maintained and contacts are conducted with certain representatives [of the moderate opposition - TASS]," Peskov noted. "Moderate forces who have been found to have no relations with terrorists can be partners in the dialogue and such dialogue is taken into account in the course of the Russian air force operation in Syria."
As UNIAN reported earlier, the Russian military and the Syrian opposition set up coordinating groups for joint operations against Islamic State terrorists in Syria.