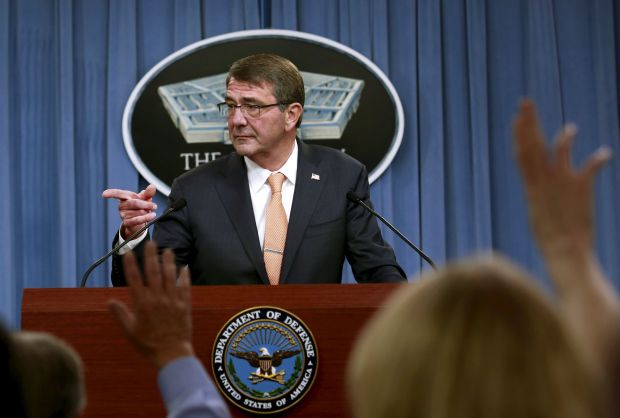 REUTERS
The United States "has no better friend or ally" than Britain, Carter said, adding that the U.K. has been involved in the counter-ISIL coalition since the beginning of the campaign in September 2014, according to the U.S. Department of Defense.
"With strong allies like the United States and the United Kingdom bringing to bear every instrument of national power against this barbaric foe, we will defeat ISIL and we will ensure that they stay defeated," Carter said.
He lauded Britain's efforts in the fight, saying it has provided significant contributions to air operations, including military strikes against ISIL targets in Iraq, and intelligence, surveillance and reconnaissance missions in both Iraq and Syria.
Read alsoUS to deter Russia's destabilizing influence in Ukraine, Syria: Carter"British soldiers have provided robust support for the coalition's partners on the ground, advising, assisting and building the capacity of local forces who are taking the fight to ISIL in both Iraq and Syria," Carter said.
In addition to the fight against ISIL, the United Kingdom has been a strong partner in many other areas, Carter said.
Read alsoBritain says it could take two years to destroy IS"The multiple fronts where the United States and the United Kingdom have stood shoulder to shoulder over the past year -- whether in deterring Russia, containing Ebola or confronting ISIL -- make it perfectly clear this is indeed a special relationship," he said.
The two countries, Carter added, must "continue writing a new playbook for deterrence and defense" in Europe. That includes strategies to counter new challenges such as cyber and hybrid warfare.
"And we must continue to adjust, both our posture and our presence, in response to Russian aggression and to support our allies," Carter said.