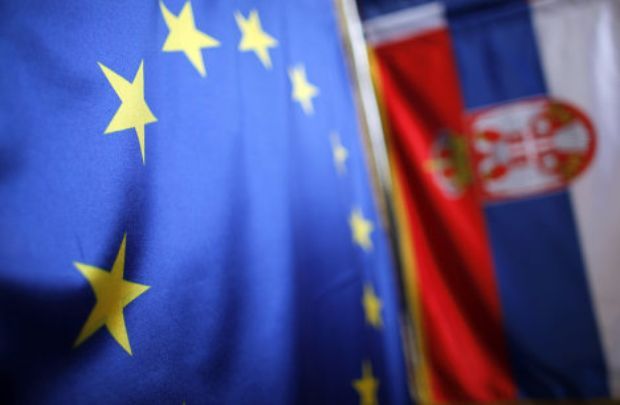 REUTERS
A December 14 conference opened two of the 35 so-called chapters in membership talks — one related to Serbia's normalization with Kosovo, its former province that is recognized as an independent state by 111 countries, but not by Belgrade, and the other on financial control, RFE/RL has reported.
"This opening is a decisive step towards the EU," said Luxembourg Foreign Minister Jean Asselborn, whose country holds the rotating EU Presidency. He added that it would not have been possible without the "courageous decisions" taken by Belgrade.
Serbia was granted the status of a candidate for EU accession in 2012. The European Commission said in an assessment on EU candidate countries last month that Belgrade has made progress both politically and economically, but that it must "enhance credibility and predictability of the rule of law."
It also said it expects Serbia to remain committed to the normalization of relations with Kosovo and to implement agreements reached so far in the Brussels-sponsored talks between Belgrade and Pristina.
"This is an important and big day for us, one of those days when we are writing the pages of our history," Serbian Prime Minister Aleksandar Vucic said following talks in Brussels on December 14. "We do not have to dream dreams anymore about the EU. All we have to do is work hard."
Vucic has pledged to meet all of the EU membership requirements by 2019.
Asselborn warned, however, that relations between Belgrade and Pristina "remained very difficult."
"We are here to help," he said.
Kosovo signed a Stabilization and Association Agreement with the EU in October, establishing the first contractual relationship between Europe's newest country and the EU despite the fact the five member states still do not recognizes its independence.