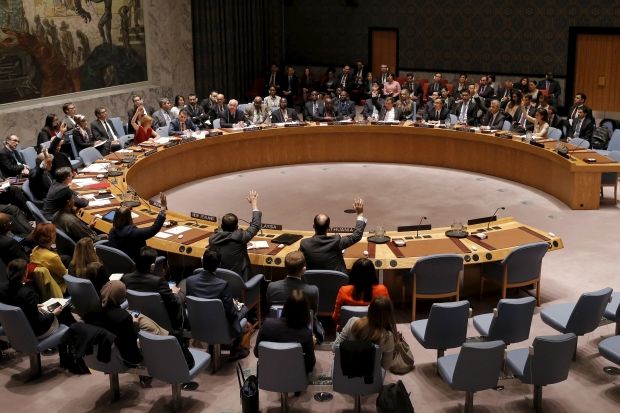 REUTERS
REUTERS
"This resolution is a critical step, but the real test will be determined by actions we each take after adoption," U.S. Treasury Secretary Jack Lew told the council after the vote. "We need meaningful implementation, coordination and enforcement from each country represented here, and many others," Reuters reports.
Drafted under the Chapter VII of the UN Charter, which can be enforced militarily, the unanimously adopted 37-page resolution ties together existing measures targeting Islamic State's finances and offers guidance on implementation in a bid to push more countries to act.
The document "expresses concern about the lack of implementation" of previous resolutions against al Qaeda and Islamic State, including an "insufficient level of reporting" by states on measures taken in line with U.N. sanctions.
The council also specifically asked states to report on "interdictions in their territory of any oil, oil products, modular refineries, and related material being transferred to or from (Islamic State or Nusra Front)."
There are currently 243 individuals and 74 entities on the ISIL and al Qaeda sanctions list, subject to an arms embargo, an asset freeze and travel ban.
French Finance Minister Michel Sapin said the new council resolution would "not be a deterrent if it does not lead to the U.N. Security Council adding names to the list."
The resolution makes clear that states are required to stop their citizens from funding or providing services to "terrorist organizations or individual terrorists for any purpose, including but not limited to recruitment, training, or travel, even in the absence of a link to a specific terrorist act."