Powerful earthquake hits Afghanistan
14:10, 26 December 2015
World
A powerful earthquake has struck northern Afghanistan near the border with Tajikistan and Pakistan, the U.S. Geological Survey said, according to Radio Liberty.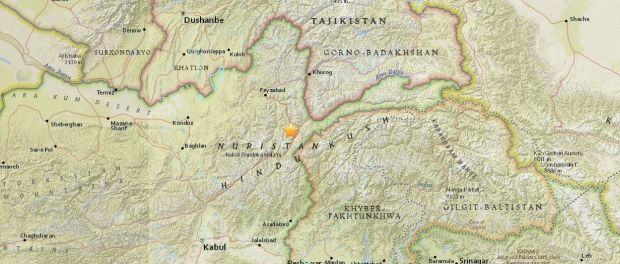 earthquake.usgs.gov
It said the 6.2-magnitude quake, reported at a depth of 203 kilometers, centered on the Hindu Kush mountains in the country's northeast, at around 23:00 local time on December 25, RFE/RL wrote.
Kabul residents rushed out of their homes and buildings on what was a bitterly cold night amid fears of aftershocks.
The earthquake also shook the Pakistani capital, Islamabad, rattling buildings and forcing sleeping residents out of their homes.
There were no immediate reports of casualties or extensive damage, but Pakistani officials said an emergency had been declared protectively at hospitals.
In October, a 7.5-magnitude quake ripped across Pakistan and Afghanistan, killing nearly 400 people and flattening buildings in rugged terrain that impeded relief efforts.
If you see a spelling error on our site, select it and press Ctrl+Enter