Daily Mail reports on double life of Russian 'spy' beheaded by ISIS
13:20, 30 December 2015
World
A Russian man beheaded by ISIS was leading a double life and had connections with both Muslim groups and his country's secret service, his friends have claimed, according to The Daily Mail.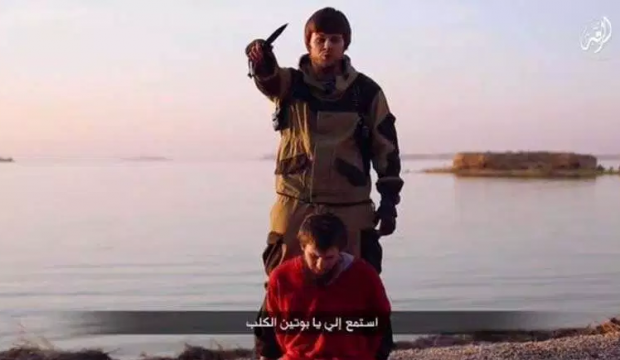 heavy.com
Magomed Khasiev confessed on video to being recruited by Russian intelligence before going to Syria and working undercover for the Federal Security Service (FSB), reads the article.
The brutal execution was carried out by a Russian-speaking terrorist who addressed President Vladimir Putin directly and vowed to unleash murderous attacks on Moscow.
Some of his Chechen friends went off to fight for Islamist militants in the Middle East, and encouraged him to join them.
In his other life he associated with non-Muslims, had a friend in the police, and had a license from the Interior Ministry to work as a security guard, according to a former teacher, a friend, and staff of several security companies. 
Read alsoReuters Exclusive: ISIS ruling on sex slavesFor some purposes, including his work, Khasiev used the name he was given at birth: Yevgeny Yudin.
At college, Khasiev was registered by his Russian name. But he told teachers he wanted to be called Magomed.
Anton Naumlyuk, a journalist from Radio Svoboda, said: 'In summer 2014 (he) was caught by FSB people having drugs on him.'
'Khasiev was sent to ISIS via Turkey. From there he was in touch with the FSB and passed information about those who were intended to go to Syria - and who had already got there,' said Naumlyuk on Facebook.
Read alsoInterpol puts Russian IS militant on wanted listKhasiev's executioner was filmed warning Russia: "We shall kill your children for every child you've killed here."
The FSB has not yet commented on the claims - although a Russian intelligence source said ISIS has offered no evidence Khasiev was an FSB spy.
If you see a spelling error on our site, select it and press Ctrl+Enter