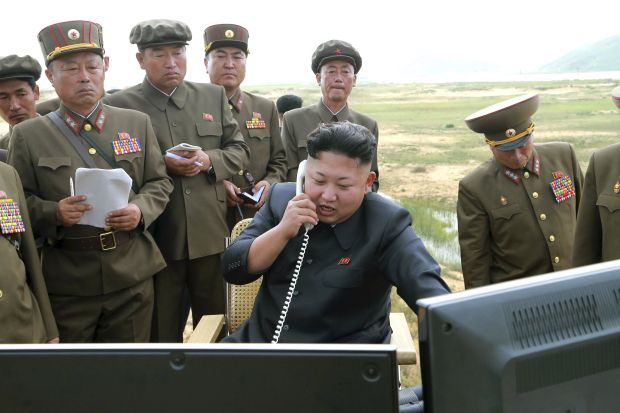 REUTERS
North Korea said Wednesday it had detonated a hydrogen bomb, after conducting a fourth nuclear test that marks a potentially significant advance in its military power, according to the report.
A special televised report on North Korean state television said the country had a "complete success" in its test of the new technology at its Punggye-ri nuclear test site, after seismic monitors in the U.S., Japan, China and elsewhere detected a man-made quake in the country's far north-east.
It was unclear exactly what sort of technology the isolated country had used in its test, or of what destructive power the bomb is capable.
Japanese Prime Minister Shinzo Abe called the test a "serious threat" that "clearly violates the [United Nations Security Council] resolution and is a serious challenge to the nuclear non-proliferation efforts."
In Washington, the White House said late on Tuesday that it could not confirm North Korea's claims, but it will continue to monitor the situation.
"While we cannot confirm these claims at this time, we condemn any violation of UNSC Resolutions and again call on North Korea to abide by its international obligations and commitments," said White House National Security Council spokesman Ned Price in a statement.
Read alsoNorth Korea announces it conducted nuclear testThe Australian government "condemns in the strongest possible terms" the test, that country's foreign ministry said, according to the report.
"Today's nuclear test confirms North Korea's status as a rogue state and a continuing threat to international peace."
Days after the first North Korean nuclear weapons test in 2006, the UN Security Council imposed wide-reaching sanctions that banned trade in arms and luxury goods. The U.S. called that test "one of the gravest threats to international peace and security that this Council has ever had to confront."
The Security Council will meet Wednesday to discuss the newest test, CNN reported. The test may prompt new measures to isolate and economically punish the country, led by the U.S., which has long failed in its efforts to force Pyongyang to abandon its nuclear weapons program, the report notes.
South Korea's President Park Geun-hye convened an emergency national security council meeting and was vowing a tough response to the North's bomb test. Park said at the start of the meeting that the government "must get North Korea to face corresponding measures based on closed cooperation with the international community."
France on Wednesday condemned North Korea's reported test of a hydrogen bomb, calling for a "strong reaction from the international community," President Francois Hollande's office said in a statement.
British Foreign Secretary Philip Hammond on Wednesday described North Korea's nuclear test as a "provocation."
"If a nuclear device has been detonated by North Korea, this is a grave breach of UN Security Council resolutions and a provocation which I condemn without reservation," Hammond said in an e-mailed statement Wednesday, according to Bloomberg.
"We will be working with other UN Security Council members to ensure the international community responds urgently and decisively to this latest activity."
Hammond, who's visiting Beijing, said he'd discussed the issue with China's top diplomat, Yang Jiechi, and "agreed to work with other members of the UN Security Council towards a robust international response."