TASS: UN Security Council working on resolution in response to N. Korea nuclear test
21:56, 06 January 2016
World
Uruguay's UN Ambassador Elbio Rosselli, the current president of the Security Council, announces that the UN Security Council is immediately launching work on the resolution detailing measures in response to Pyongyang's nuclear test, according to Russian news agency TASS.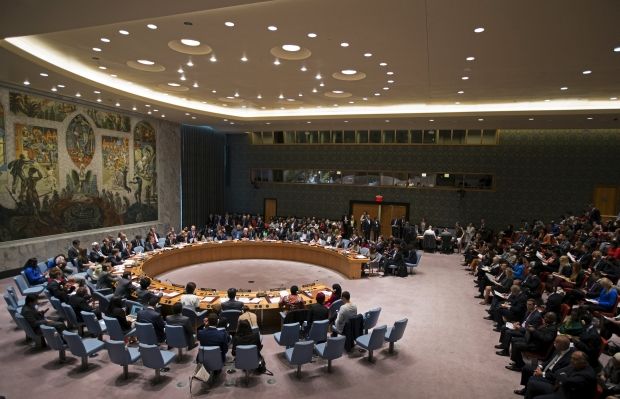 REUTERS
"In line with this decision, the UN Security Council members will immediately begin work on preparing a new resolution that will include these measures," he said, giving no details on the particular steps, TASS wrote.
The diplomat condemned the test calling it a "serious violation" of the UN Security Council's resolutions that ban Pyongyang from carrying out any activity linked to developing nuclear weapons and ballistic missiles.
Rosselli reminded that after the underground nuclear test conducted by North Korea in 2013, the UN Security Council agreed to adopt retaliatory measures in case of repeated tests.
The UN Security Council's resolution is expected to introduce further sanctions against North Korea.
Japan's envoy to the UN Motohide Yoshikawa said after the UNSC meeting on Wednesday that the document would be based on Chapter VII of the UN Charter that envisages sanctions and the use of military force.
Russia's UN envoy Vitaly Churkin said on Wednesday the international community should respond to North Korea's hydrogen bomb test proportionally. "We need to keep a cool head and act proportionally," Churkin told reporters.
UN Secretary-General Ban Ki-moon condemned Pyongyang's hydrogen bomb test on Wednesday calling it "deeply troubling" and "profoundly destabilizing for regional security."
North Korea announced earlier on Wednesday that it had successfully conducted a hydrogen bomb test. The country's government said in a statement circulated by the Korean Central News Agency (KCNA) the test had had "no adverse impacts on the environmental situation." Now, according to the statement, North Korea "possesses the strongest deterrent forces."
North Korea previously conducted three nuclear tests: in 2006, in 2009 and in 2013. Following these tests, the United Nations Security Council imposed various sanctions on Pyongyang. In the past two years, North Korea refrained from nuclear tests limiting itself to ballistic missile launches as a response to the U.S.-South Korea large-scale military drills.
If you see a spelling error on our site, select it and press Ctrl+Enter