Police arrest three men on suspicion of links to Jakarta attack
10:37, 15 January 2016
World
Indonesian police on Friday arrested three men on suspicion of links to the brazen attacks in the heart of the country's capital, and said they recovered a flag of the Islamic State group from the home of one of the attackers, according to Associated Press.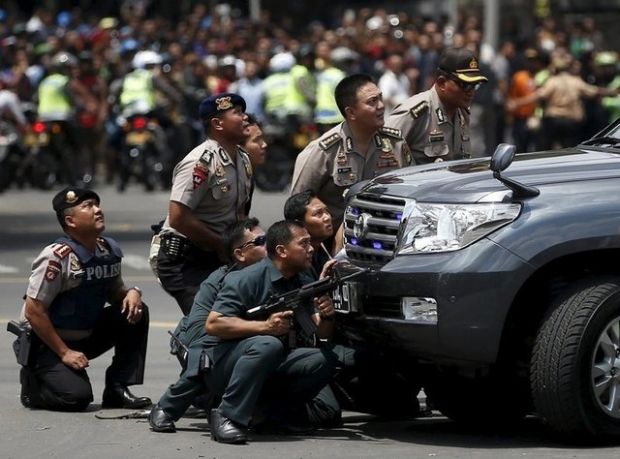 REUTERS
The discovery of the flag bolsters authorities' claim that the attack Thursday was carried out by the Islamic State group, which controls territory in Syria and Iraq and whose ambition to create an Islamic caliphate has attracted 30,000 foreign fighters from around the world, including a few hundred Indonesians and Malaysians, AP reports.
The arrests of the three took place at dawn at their homes in Depok on the outskirts of Jakarta, police said in a text message, citing Col. Khrisna Murti, director of criminal investigations who led the raid. It said they were arrested for suspected links to the attackers. MetroTV broadcast footage of the handcuffed men being escorted by police.
Five men attacked a Starbucks cafe and a traffic police booth with hand-made bombs, guns and suicide belts Thursday, killing two people – a Canadian and an Indonesian – and injuring 20. The attackers were killed subsequently, either by their suicide vests or by police.
National police spokesman Maj. Gen. Anton Charliyan told reporters a black IS flag was found in the home of one of the attackers and police believe they have established their identities.
He says two of the five men were previously convicted and imprisoned for terrorism offenses.
The IS link, if proved, poses a grave challenge to Indonesian security forces because until now the group was known only to have sympathizers with no active cells capable of planning and carrying out such an attack.
If you see a spelling error on our site, select it and press Ctrl+Enter