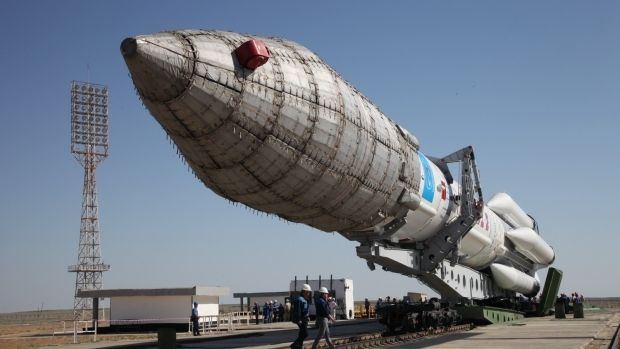 Photo from Roskosmos
"This is the first space launch in 2016 where the Proton-M carrier has been used," he said, TASS wrote.
According to the timing chart of the flight, the separation of first stage of the launch vehicle is to take place two minutes after takeoff. It is expected to fall on the ground in Kazakhstan's central Karaganda region.
The second stage will fall off 3.5 minutes after the separation of the first stage. The petals of the nose cone open up. They will fall down on the earth in the Altai Mountains area. The Briz-M booster block, which carries the satellite, is to separate from the third stage of the launch vehicle 9 mins 42 secs after the liftoff.
In the next phase of the operation to deliver Eutelsat 9B to the designated orbit of 36,000 km above the Earth, five impulses of the Briz-M engine unit will be used.
The total time of delivery of the satellite into the designated orbit will be 9 hrs 12 mins.
An agreement on launching this satellite was signed in October 2015 by International Launch Services, a filial company of the Moscow-based Khrunichev Center, and Eutelsat Communications of France, one of the leading operations of satellite telecommunications.
Over the past fifteen years, the Protons have launched eleven space vehicles commissioned by Eutelsat.
The current satellite will support digital TV transmissions and data connections in Scandinavian and Baltic countries. It was built by Airbus Defense and Space, an aerospace subdivision of Airbus group that is based in Toulouse.
The takeoff weight of the satellite is about 5,262 kilograms.