Anti-Islam protests in Europe draw fewer participants than expected by police
13:45, 07 February 2016
World
Germany's anti-Islam PEGIDA movement staged rallies in several cities across Europe on Saturday to protest against the arrival of hundreds of thousands of migrants from the Middle East and Africa, according to Reuters.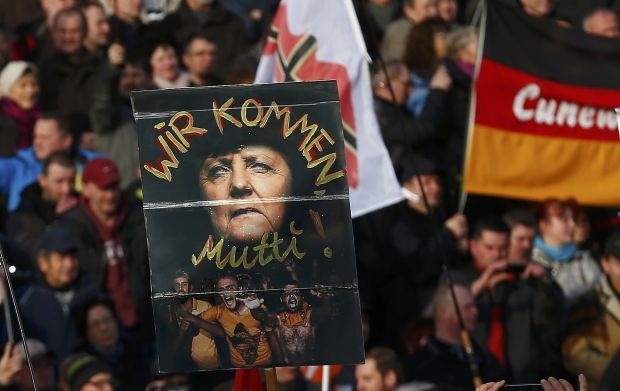 REUTERS
"We must succeed in guarding and controlling Europe's external borders as well as its internal borders once again," PEGIDA member Siegfried Daebritz told a crowd on the banks of the River Elbe who chanted "Merkel must go!"
The movement, whose name stands for Patriotic Europeans Against the Islamisation of the West, originated in the eastern German city of Dresden in 2014, with supporters seizing on a surge in asylum seekers to warn that Germany risks being overrun by Muslims.
Read alsoSyrian refugee flow can't be stopped until Russia, Assad halt airstrikes: ErdoganAfter almost fizzling out early last year, the movement has regained momentum amid deepening public unease over whether Germany can cope with the 1.1 million migrants who arrived in the country during 2015.
The alleged involvement of migrants in assaults on women in Cologne on New Year's Eve has also spurred PEGIDA, which says it is proof that German Chancellor Angela Merkel's welcoming stance to refugees is flawed.
Police in Dresden declined to estimate the number of protesters. German media put the number at up to 8,000, well below the 15,000 originally expected by police.
Read alsoMerkel says refugees must return home once war overHundreds of counter-demonstrators also marched through Dresden under the motto "Solidarity instead of exclusion", holding up placards saying "No place for Nazis".
If you see a spelling error on our site, select it and press Ctrl+Enter