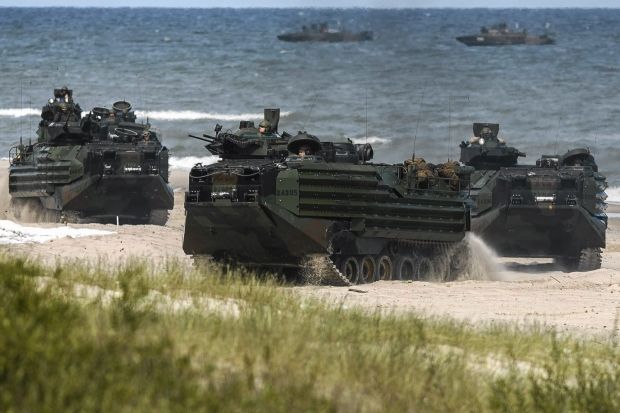 REUTERS
The logistics war game in Jordan aims to ensure the Army can still deploy a 30,000-strong force of tanks and troops to a crisis zone anywhere in the world, despite sharp defense cuts in the past five years, The Daily Telegraph wrote.
Exercise Shamal Storm could be a dry run for one day having to send a large armored force of British troops to Eastern Europe if there was ever a Russian confrontation with NATO, sources said.
More than 300 military vehicles are being shipped to the Jordan, where logistics, medical, intelligence and bomb disposal experts will practice supporting a massive British military expedition.
Army sources said despite being held in Jordan, bordering Syria, the desert exercise was not a dress rehearsal for sending British troops against Islamic State in Iraq and Levant (Isil) militants.
A source said: "This isn't a counter-Isil exercise. If anything, this is much more about us being prepared to join the U.S. in Ukraine than it is in Syria."
"This is not the sort of kind of force you expect to roll into Aleppo to take on a bunch of jihadists."
After more than a decade of fighting a long-running counter insurgency campaign in Afghanistan, where no more than 10,000 troops were deployed at any one time, the Army is trying to relearn skills for larger scale armored conflict.
The exercise in the south western desert of Jordan will be the biggest of its kind since 2001, when British troops held a major drill called Saif Sereea in Oman.