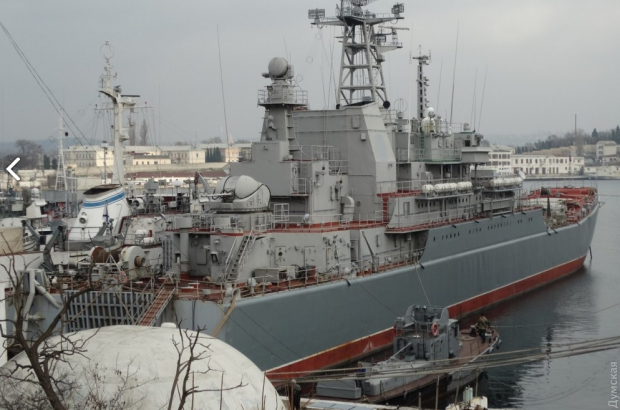 Kostyantyn Olshansky after a new paint job – no name, no number / dumskaya.net
Last year, the ship was painted in the colors of the Russian Navy, and now it is on active repair and restoration, including the repair of two diesel engines, one of which was out of service before the occupation of Crimea, and the other was damaged by crew.
"It appears that the aggressor's Navy has not enough warships to deliver cargo, military and other equipment to Syria," said the publication's source.
However, the source stressed that the ship remains the Ukrainian property according to international law, so its passage through the straits will cause problems.
Read alsoRussia fails to complete construction of warships, blames Ukraine"However, the Russians can disguise Kostyantyn Olshansky as any other landing ship. It would just have to put on another registration number and change the nameplate," said the source.
Read alsoRussia buys used Turkish vessels to ship cargo to Syria — Ukraine intelAs UNIAN reported earlier, the value of the Ukrainian Navy's assets that were left behind in Crimea and Sevastopol amounted to UAH 1.495 billion.