McCain presses U.S. Air Force, Pentagon over Russian engines
10:29, 11 February 2016
World
The head of the U.S. Senate Armed Services Committee John McCain on Wednesday increased pressure on the Pentagon and the Air Force, demanding answers over the continued use of Russian rocket engines for U.S. satellite launches, Reuters has reported.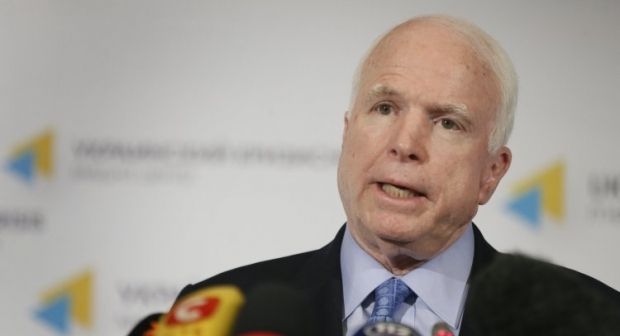 Photo from UNIAN
McCain, in a letter dated February 10 seen by Reuters, asked Air Force Secretary Deborah James and Pentagon chief arms buyer Frank Kendall to explain why the U.S. government is continuing to deal with NPO Energomash, the Russian firm that builds Russian RD-180 rocket engines.
McCain pressed the officials on the legality of doing business with NPO Energomash given sanctions in place against Russian Deputy Prime Minister Dmitry Rogozin and others, who now have control over the company after a recent reorganization.
McCain also questioned the Air Force's continued payment of a large launch support contract to United Launch Alliance (ULA), a joint venture of Lockheed Martin Corp and Boeing Co, despite the presence of a certified competitor, Space Exploration Technologies, or SpaceX.
McCain said he wants answers to these questions by February 22.
As UNIAN reported earlier, McCain took immediate issue on Tuesday with President Barack Obama's budget request, saying it would leave the Defense Department with at least $17 billion less than it said it needed and planned for this year.
If you see a spelling error on our site, select it and press Ctrl+Enter