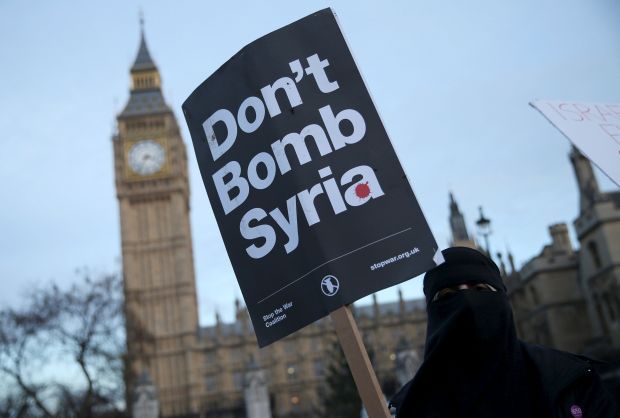 REUTERS
Vladimir Dzhabarov, the first deputy chairman of the committee for international affairs at the Russian Federation Council, the upper house of Russia's parliament, thus commented on the ceasefire agreement reached at a meeting of the International Syria Support Group in Munich, TASS wrote.
"Despite these accords, Russia will continue its counter-terror operation of the air task force because the places of the location of militants from the IS [the Islamic State terrorist organization outlawed in Russia] and the routes of their supply with ammunition, cargoes and manpower are well-known," the senator said.
"As far as I understand, these accords relate only to the warring groupings in Syria but do not relate to terrorists who are staying on the territory of Syria and partially on the territory of Iraq," he added.
"We're working at the request of the Syrian president and are struggling against the terrorists who represent the IS on the territory of Syria," the parliamentarian said.
The Russian senator praised the ceasefire accords reached in Munich.
"The ceasefire between the warring groupings in Syria will always be welcomed because innocent people are dying and the situation in the country is being destabilized," he noted.
The senator said, however, that the prospect of the truce observance "does not inspire much optimism."
"There are too many groupings, which position themselves as anti-governmental and anti-Assad forces, on the one hand, and some of them are of clearly terrorist nature, on the other hand," Dzhabarov said.
The senator said he was confident that it was necessary to clearly separate opposition forces in Syria from terrorist groupings.
"This should be agreed by the leading world powers, which are fighting against the IS," the senator said.
Russian Foreign Minister Sergey Lavrov said earlier on Friday the Munich meeting of the International Syria Support Group had agreed that "the working group co-chaired by Russia and the United States will work out the modalities of the ceasefire in Syria over a week."
Also, "this group's mandate includes determining the areas, which are under terrorists' control," the minister said.
According to U.S. Secretary of State John Kerry, all the group's participants expressed their readiness to work with Russia in a way, which covered the political, humanitarian and military aspects of the problem.