Merkel backs Cameron EU reform demands
10:51, 18 February 2016
World
German Chancellor Angela Merkel on Wednesday threw her weight behind British Prime Minister David Cameron's reform demands as EU leaders readied a make-or-break summit on Britain's future in the bloc, according to Business Recorder.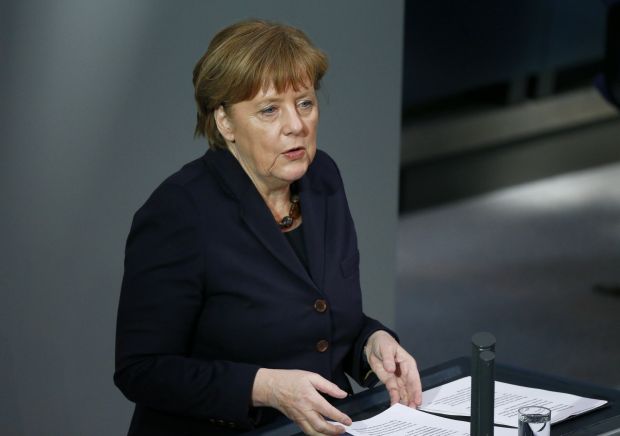 REUTERS
"These are not just about Britain's individual interests on some issues or questions, rather it is about several points that are justified and understandable," Merkel told parliament in Berlin, the report says.
Cameron has four key demands – welfare restrictions to help curb immigration, safeguards for non-euro Britain, increasing competitiveness plus an opt-out from closer EU integration – and they have all exposed sharp differences over what direction the European Union should take.
Up to now, Merkel, the European Union's undoubted power-broker, has offered polite support with the caveat that any changes must not compromise fundamental EU values and achievements, such as free movement of people.
Now, she said, Germany shared Britain's concerns.
"Like David Cameron, I believe that it is necessary for the EU to improve our competitiveness, transparency and (reduce) bureaucracy. Germany has shared these concerns for many years," she said.
Even the controversial proposal to curb benefits is "justified and understandable because the jurisdiction for each respective social system lies not in Brussels but in each individual member state," she said.
"Therefore, it is only natural for every member state to be able to protect its social system against abuse."
Cameron has promised Britons an in-out EU membership referendum by 2017 but it is widely expected that if he can get a deal in Brussels, he will call the vote for June.
Fail, however, and he has said anything is possible, including Britain becoming the first country to leave a bloc which critics believe is heading towards becoming a super-state, instead of the cooperative collection of independent sovereign countries they want to see.
If you see a spelling error on our site, select it and press Ctrl+Enter