Business Insider: Saudi Arabia spends GBP 56 bln a year on its insane military
22:39, 19 February 2016
World
The Kingdom of Saudi Arabia spends 25% of its budget, or about GBP 56 billion ($80 billion), on its military, which is about double what it spends on health and social development, according to Business Insider.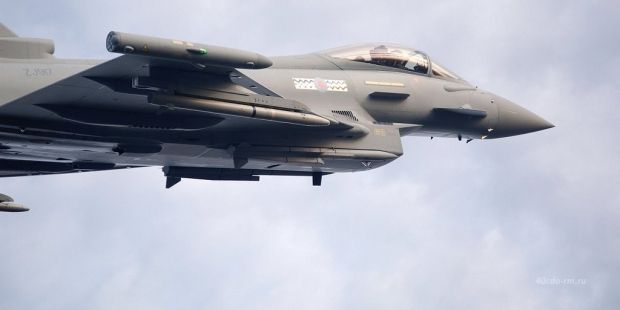 The Typhoons built by BAE are a key part of Saudi Arabia's hugely strong air force / An illustrative image from 40cdo-rm.ru
Saudi Arabia has one of the best-funded defence forces in the Middle East, Business Insider wrote.
The Gulf state took delivery of GBP 800 million ($1.14 billion) worth of BAE's Eurofighter Typhoon jet during 2015, boosting its airborne presence, and the coffers of BAE. It is set to buy even more this year.
The Typhoons built by BAE are a key part of Saudi Arabia's hugely strong air force. The air force contains more than 300 fighter jets and 15 active airfields. The Typhoon is one of the most advanced jets ever built and was a joint project between members of the European Union.
Also included in Saudi Arabia's airborne fleet are dozens of U.S.-made F-15s, with another 80 on order.
The Saudi Airforce will soon include 22 new Hawk Advanced Jet Trainer aircraft, which like Typhoons, are built by BAE. First flown in 1974, Hawks are used to train fighter pilots before they graduate to the big boys. British acrobatic flight squad, the Red Arrows, use Hawks.
Saudi Arabia also has more than 100,000 people in its national guard, which is used primarily to secure internal threats but has been used as an expeditionary force too. In terms of manpower, Saudi Arabia has about 440,000 active personnel in its military, with 225,000 army troops.
On the ground the Saudi military has 442 M1A2 Abrams tanks, produced in the U.S. The engines put out 1,500 horsepower and can run on any fuel, including petrol diesel, kerosene, or jet fuel. It is equipped with a 120 mm smoothbore gun, designed by Rheinmetall AG of Germany, capable of firing a variety of rounds. The fearsome tank also comes armed with multiple machine guns.
Saudi Arabia has about 82 AH64D Apache helicopters — the most advanced multirole attack helicopter, according to its manufacturer, Boeing. The helicopter can classify and prioritise 128 targets in less than a minute.
The navy has about 40,000 members, as does the air force.
The navy is modernising its fleet and has signed an $11.25 billion deal with the U.S. to provide four state-of-the-art Lockheed Martin multimission warships. As part of the upgrade, Saudi Arabia will also get new littoral combat ships, which are designed to operate close to the coast.
The Royal Saudi Strategic Missile Services is equipped with the Chinese-made DF-21 and DF-3 Dongfeng missile-delivery systems, designed for long-distance, high-explosive warheads.
The Saudi military has a strong artillery, with more than 750 Howitzers including 50 American-made M270 armoured rocket launchers, which can hit targets 300 kilometers away.
If you see a spelling error on our site, select it and press Ctrl+Enter