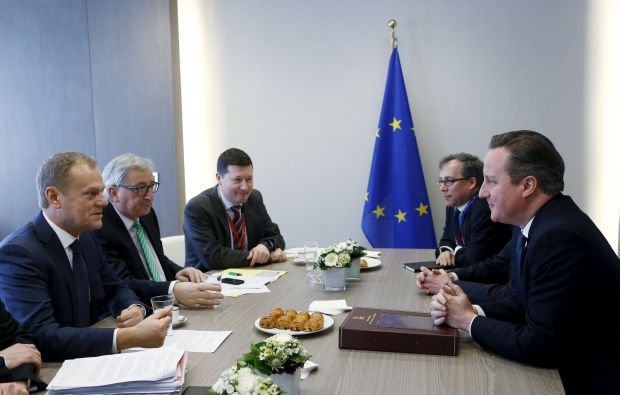 REUTERS
British Prime Minister David Cameron said he had achieved all his main negotiating aims and would recommend the agreement to his cabinet on Saturday, firing the starting gun on a fierce referendum campaign on Britain's future membership of the bloc, Reuters wrote.
"I believe we are stronger, safer and better off inside a reformed European Union," Cameron told a news conference. "And that is why I will be campaigning with all my heart and soul to persuade the British people to remain in the reformed European Union that we have secured today."
After two days of intense wrangling in Brussels, EU leaders determined to try to keep Britain in the union resolved outstanding disputes over migrant workers' welfare rights and relations between London and the euro zone.
"So now the deal is done and it's up to the British people to decide," said European Commission President Jean-Claude Juncker - the man Cameron tried furiously to block for the top EU executive job, but who played a key role in crafting the deal.
The agreement on renegotiating the UK's EU membership was announced by European Council president Donald Tusk, who tweeted: "Deal. Unanimous support for new settlement for UK in EU."
German Chancellor Angela Merkel predicted the package of reforms would "elicit support in the UK for the country to remain in the EU".