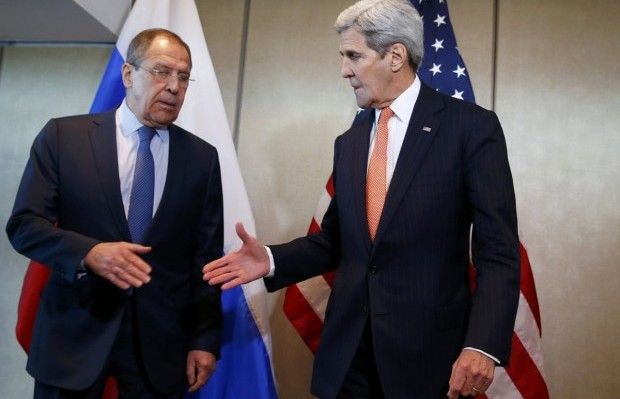 REUTERS
The United States of America and the Russian Federation, as co-chairs of the International Syria Support Group (ISSG) and seeking to achieve a peaceful settlement of the Syrian crisis with full respect for the fundamental role of the United Nations, are fully determined to provide their strongest support to end the Syrian conflict and establish conditions for a successful Syrian-led political transition process, facilitated by the UN, in order to fully implement the Munich Statement of the ISSG on February 11, 2016, UN Security Council Resolution 2254, the 2015 Vienna Statements and the 2012 Geneva Communiqué, according to the statement.
Read alsoCavusoglu: Turkish-Saudi ground operation in Syria not on agenda
"Any party engaged in military or para-military hostilities in Syria, other than "Daesh" [Islamic State], "Jabhat al-Nusra", or other terrorist organizations designated by the UN Security Council will indicate to the Russian Federation or the United States, as co-chairs of the ISSG, their commitment to and acceptance of the terms for the cessation of hostilities by no later than 12:00 (Damascus time) on February 26, 2016," reads the statement.
The document stipulates that the folllowing terms be followed:
To fully implement UN Security Resolution 2254, adopted unanimously on December 18, 2015, including the readiness to participate in the UN-facilitated political negotiation process;
To cease attacks with any weapons, including aerial bombardments by the Air Force of the Syrian Arab Republic and the Aerospace Forces of the Russian Federation, against the armed opposition groups (as confirmed to the United States or the Russian Federation by parties to the cessation of hostilities);
To refrain from acquiring or seeking to acquire territory from other parties to the ceasefire;
To allow humanitarian agencies, rapid, unhindered and sustained access throughout areas under their operational control and allow immediate humanitarian assistance to reach all people in need;
To proportionate use of force (i.e., no greater than required to address an immediate threat) if and when responding in self-defense.
The development could pave the way for further talks and possibly a ceasefire between the rebels and the government of Syria, President Bashar al-Assad.