'Spotlight' wins best picture at Academy Awards, DiCaprio takes home first Oscar
09:12, 29 February 2016
World
Hollywood's biggest night was an evening of surprises and long-awaited wins, as five-time nominee Leonardo DiCaprio finally snagged a golden statuette for his role in the snowbound survival epic "The Revenant," according to Deutsche Welle.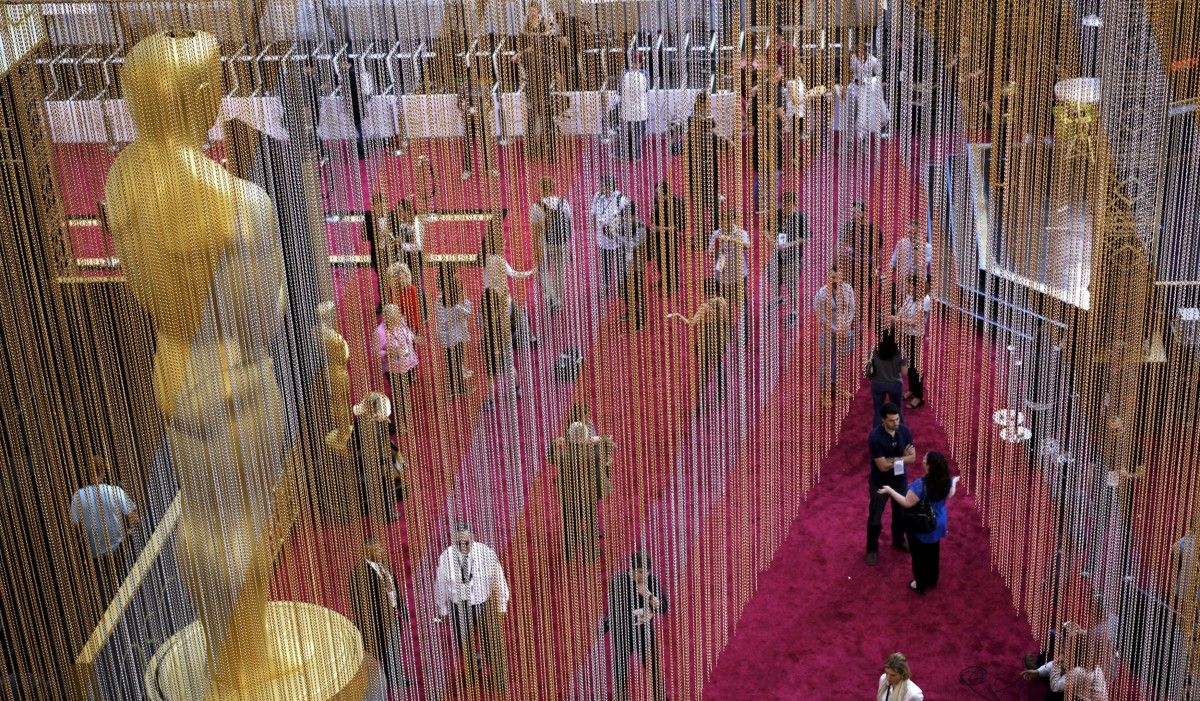 REUTERS
DiCaprio's win for best actor earned the 41-year-old a standing ovation, and he used his acceptance speech to talk about climate change, recalling how the cast and crew of "The Revenant" had to travel to South America to find snow, DW reported.
"Climate change is real," said DiCaprio. "It is happening right now. It is the most urgent threat facing our entire species," he said. "Let us not take our planet for granted," he said. "I do not take tonight for granted."
Joining DiCaprio in the acting honors was first-time nominee Brie Larson, for the hostage drama "Room." In one of the night's few surprises, British stage actor Mark Rylance beat out sentimental favorite Sylvester Stallone for the best supporting actor nod, winning for his role in Steven Spielberg's Cold War-era drama "Bridge of Spies." And Sweden's Alicia Vikander took home the award for best supporting actress for her role as the wife of a transgender artist in "The Danish Girl."
Winning the Oscar for best picture was the journalism drama "Spotlight," Tom McCarthy's film about the "Boston Globe" and its investigative reporting on sexual abuse by Roman Catholic priests. It beat out other top contenders "The Revenant," "The Big Short" and "Mad Max: Fury Road," though the latter still managed to grab six awards in the technical categories, making it the night's most awarded film.
Despite its loss in the best picture category, "The Revenant" did earn its director Alejandro G. Inarritu a win for best director, a year after his statue for the dark comedy "Birdman."
"What a great opportunity for our generation to really liberate ourselves from all prejudice and this tribal thinking and to make sure for once and forever that the color of our skin becomes as irrelevant as the length of our hair," said Inarritu on accepting his award, touching on one of the night's recurring topics.
Inarritu's win marked the third time that a director has won back-to-back Oscars, after John Ford for "The Grapes of Wrath" and "How Green Was My Valley" in the early 1940s and Joseph L. Mankiewicz for "A Letter to Three Wives" and "All About Eve" in the 1950s. It was also the third straight win for a Mexican filmmaker in the best director category.
Black comedian and actor Chris Rock, back to host the awards for a second time, started off with a biting monologue that referenced the #OscarsSoWhite social media campaign that has dogged the Academy since an all-white group of actors was nominated in January, the second straight year.
Earlier in the evening, civil rights leader Al Sharpton led a protest outside the awards venue, calling for a boycott of the ceremony.
Rock set the tone early on, welcoming the audience to the "white people's choice awards" and referencing racial politics and representation in Hollywood throughout the evening. At one point, he introduced a bit that, with the help of a green screen and black actors Whoopi Goldberg, Leslie Jones and Tracy Morgan, attempted to add some diversity to last year's movies.
Later on, he did a taped bit outside a theater interviewing black moviegoers who said they'd never heard of nominated films like "Spotlight," ''Brooklyn," ''Trumbo" or "Bridge of Spies."
Social consciousness continued with an appearance by U.S. Vice President Joe Biden, who urged a stronger stand against sexual violence on college campuses as he introduced an energetic Lady Gaga, who performed the nominated song "Till It Happens to You" - her song about sexual abuse on college campuses from the documentary "The Hunting Ground."
Full list of 2016 Oscar winners:
Best Picture: "Spotlight"
Best Director: Alejandro Gonzalez Inarritu, "The Revenant"
Best Actor: Leonardo DiCaprio, "The Revenant"
Best Actress: Brie Larson, "Room"
Best Supporting Actor: Mark Rylance, "Bridge of Spies"
Best Supporting Actress: Alicia Vikander, "The Danish Girl"
Best Original Screenplay: "Spotlight""
Best Adapted Screenplay: "The Big Short"
Best Foreign Film: "Son of Saul" (Hungary)
Best Documentary Feature: "Amy"
Best Animated Feature: "Inside Out"
Best Film Editing: "Mad Max: Fury Road"
Best Song: "Writing's On The Wall," Sam Smith, "Spectre"
Best Original Score: "The Hateful Eight"
Best Visual Effects: "Ex Machina"
Best Cinematography: "The Revenant"
Best Costume Design: "Mad Max: Fury Road"
Best Makeup and Hairstyling: "Mad Max: Fury Road"
Best Production Design: "Mad Max: Fury Road"
Best Sound Editing: "Mad Max: Fury Road"
Best Sound Mixing: "Mad Max: Fury Road"
Best Live Action Short Film: "Stutterer"
Best Short Film, Animated: "Bear Story"
Best Documentary Short Subject: "A Girl in the River"
If you see a spelling error on our site, select it and press Ctrl+Enter