Miss Universe 2008 has been crowned after the most unexpected spectacle saw Miss USA tumble for the second year running, according to
HeraldSun.
Miss Venezuela Dayana Mendoza, 22, was handed the crown by last year's winner Riyo Mori of Japan.
Mendoza - considered the favourite - says her kidnapping in her homeland when she was younger allowed her to remain poised under pressure.
The same could not be said of the Miss USA contestant Crystle Stewart of Texas.
She tripped on the train of her bejeweled evening gown as she made her entrance.
She stood quickly after the trip, but is the second Miss USA in a row to fall during the Miss Universe competition.
Miss USA Rachel Smith fell in the evening gown competition last year in Mexico, with the incident captured on YouTube.
Miss Australia Laura Dundovic was among the final ten out of the original field of 80, alongside Miss Kosovo, Miss Spain, Miss Mexico, Miss Colombia, Miss USA, Miss Dominican Republic, Miss Russia, Miss Italy and Miss Venezuela.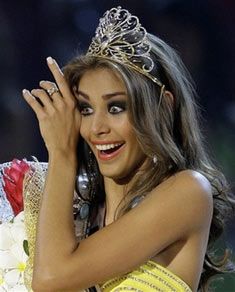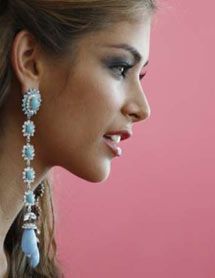 The 15 semifinalists in bright bikinis strutted across the stage before the final 10 appeared in evening gowns.
Judges included fashion experts and Donald Trump Jr., whose father, the real estate magnate and TV star, co-owns the pageant.
The assortment of beauties compete in three categories - swimsuit, evening gown and interview - before other celebrity judges, including former Miss Universe 2004, Australian Jennifer Hawkins.
The field was reduced to 15 semi-finalists at the beginning of the show, including Venezuela, Kosovo, Mexico, Vietnam, South Africa, Australia, Japan, the Dominican Republic, Italy, Colombia, Russia, Hungary, the Czech Republic, the United States and Spain.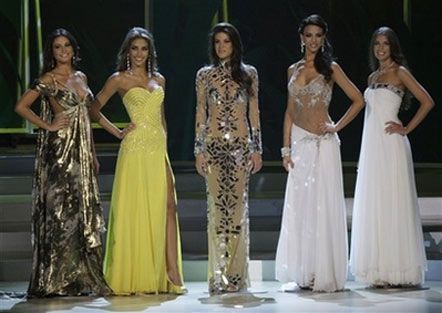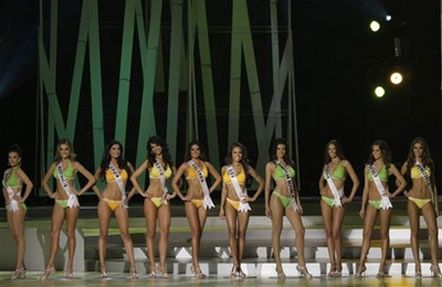 It may not be the Olympics, but with television audiences in 170 countries expected to tune in to watch today`s gala, it is being touted as Vietnam`s coming-out party.