TASS: Smoke in defense ministry's building in Moscow located
14:06, 03 April 2016
World
Updated
The Russian Defense Ministry's press service has reported that smoke in a ministry building in the center of Moscow has been located, according to Russian news agency TASS.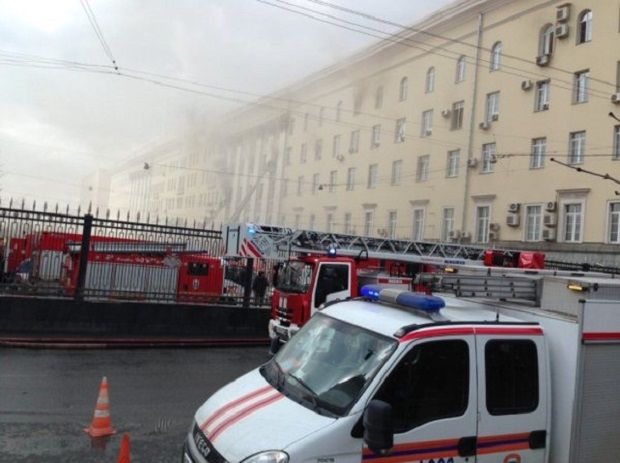 The building of Russia's Defense Ministry in Moscow is on fire / Photo from twitter@vorliamov
"Today, at about 10 in the morning, smoke was located in a technical room of the administrative building in Znamenka, which is under repairs now," the press service said, law enforcers told TASS on Sunday.
"The fire brigades, which arrived to the building, localized the smoke. No victims there," the press service added.
According to a source, the fire has spread to all floors of the defense ministry's building in Moscow.
"The fire in the old five-storey building in Znamenka has spread to all the floors," the source said. "More than 30 fire and rescue teams are called to the site."
Defense Ministry Spokesman Igor Konashenkov said later on Sunday fire that broke out in one of the buildings of the defense ministry on that day had been put out.
Fire fighters are now washing down internal structures and premises, he said.
"Russian Defense Minister Sergei Shoigu has set a task to assess damage done to the building, in particular to its support structures. Sergei Shoigu issued an order to restore the building as soon as possible and preserve its historical appearance," he said.
A short circuit in the cabling is being considered as a theory behind the fire incident.
If you see a spelling error on our site, select it and press Ctrl+Enter