Erdogan calls for revoking terror supporters' citizenship
12:29, 06 April 2016
World
Turkish President Recep Tayyip Erdogan has called for considering steps to strip citizenship of terrorist organization supporters, according to Anadolu Agency.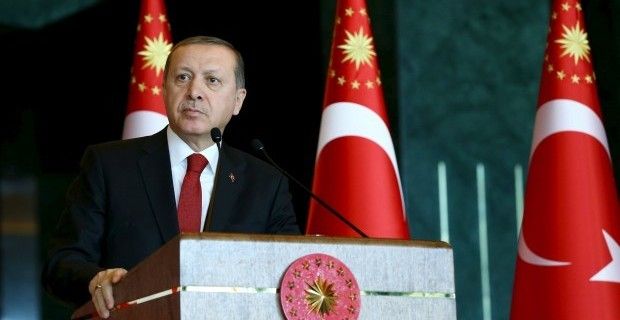 REUTERS
In remarks made during a meeting with Turkish attorneys at the presidential complex in the capital Ankara to mark the Lawyers' Day Tuesday, Erdogan said there is a need to annihilate adherents of terrorism through forceful measures, Anadolu Agency reports.
"We need to be decisive to take all necessary measures, including stripping citizenship to deactivate terrorist organization supporters," he said, adding: "They are not even our citizens."
Turkish president also said that security operations against the PKK in southeastern parts of the country will continue until the terrorist group is defeated.
He said the struggle against terrorism has been carried out keeping in mind the morals, conscience and laws of Turkey.
Read alsoBloomberg: Hollande drops plan to strip citizenship from terroristsAlso, Erdogan said some law offices in Turkey were working as branches of terrorist organization; he criticized some attorneys by calling them "so called attorneys."
Moreover, he pointed out flaws in some bar associations.
"We need to establish a pluralist structure that enables different voices to express themselves in bar associations and other professional organizations," Erdogan said.
"I believe that there is a need to change the election system in professional associations, especially in bar associations," he added.
The president called on the government and Turkish parliament to fix the legislations regarding the associations. "It is possible to be resolved before the end of the year," he said, adding that he would assist in such a law-making process.
Erdogan also said attorneys are one of the primary components in a judicial system, which should be strong and honorable for the sake of securing justice in a country.
If you see a spelling error on our site, select it and press Ctrl+Enter