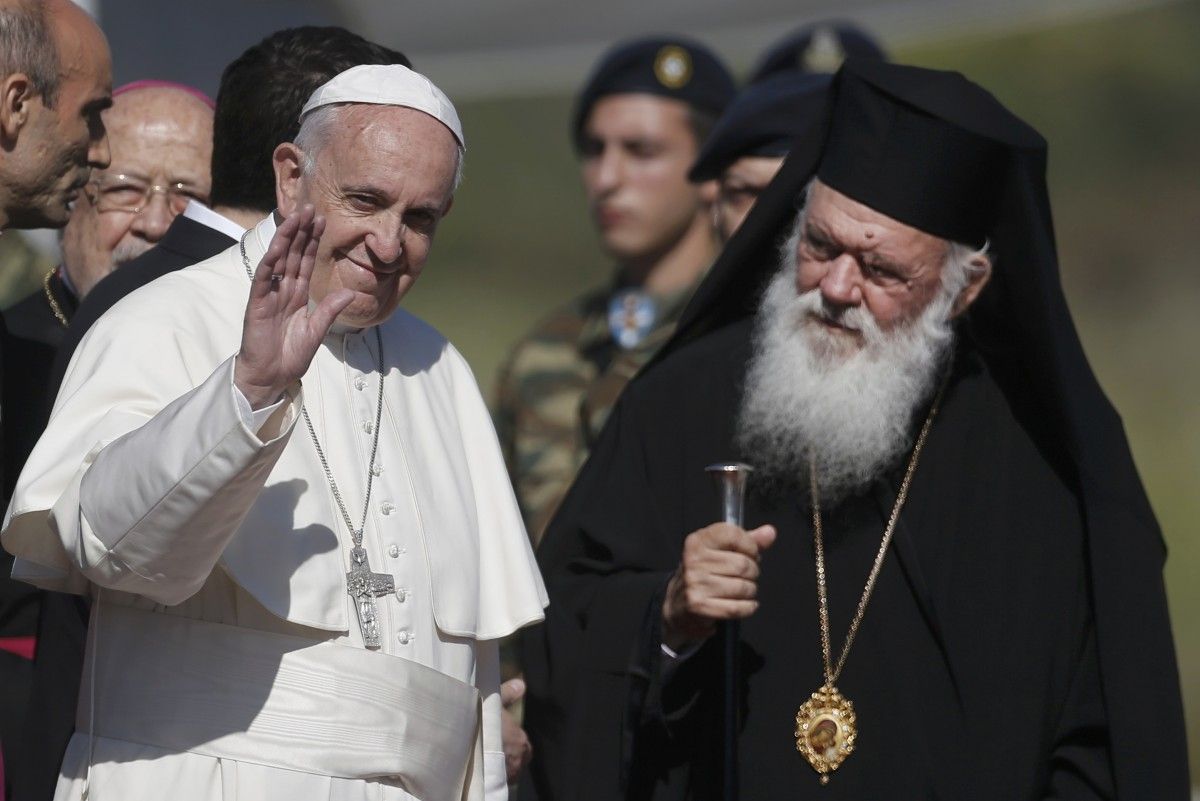 REUTERS
The leader of the world's estimated 2 billion Catholics arrived on Lesbos Saturday, alongside the spiritual leader of the world's 300 million Orthodox Christians, Ecumenical Patriarch Bartholomew, and the head of the Orthodox Church of Greece, Athens Archbishop Ieronymos II, DW reports.
They greeted about 250 refugees who are currently on the Greek island. Afterwards they are expected to have lunch with some of them, and throw floral wreaths in to the sea while praying for those who died on the journey to the island. DW correspondent Bernd Riegert, reporting from Lesbos, said the Pope told the refugees at Moira camp "you are not alone."
Later in their visit, the three religious leaders signed a joint declaration calling for the protection of human lives to be made a priority and for the international community to extend temporary asylum to those in need.
Read alsoPope Francis remembers victims of Brussels violence on Good FridayDozens of refugees who didn't meet the pope gathered holding makeshift banners with slogans such as "Pope you are our hope," ''please save Yazidi people," ''we are also human," and "Welcome Pope Francis."
The pope has reportedly offered to take 10 refugees back to Italy with him when he departs the Greek island, Greek state television ERT reported, adding it appears eight Syrians and two Afghans will be offered passage. The inclusion of the latter would be a symbolic move at a time when the EU has stopped automatically considering Afghans as refugees and does not include them among the nationalities whose asylum applications are approved.
DW's Bernd Riegert said the Pope's visit was to "visit refugees and reject EU asylum policy."
At the same time, according to the BBC, Pope Francis has taken 12 Syrian migrants back with him to the Vatican after visiting a camp on the Greek island of Lesbos.
The three families, including six children, are all Muslim and had their homes bombed during the Syrian war.
The Vatican said in a statement that Pope Francis wanted to "make a gesture of welcome'' to the refugees.