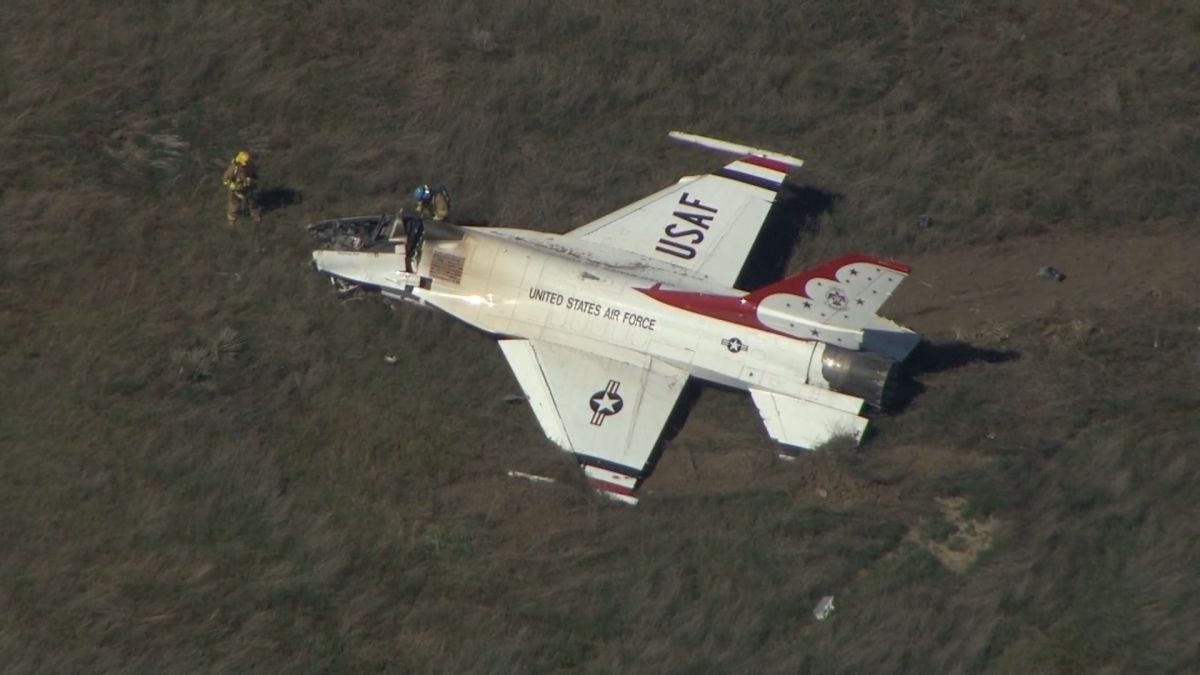 KCNC chopper
Air Force spokeswoman Lt. Col. Michal Kloeffler-Howard said Thursday the pilot ejected, and was uninjured, as reported by CBS News.
The Air Force identified the pilot as Maj. Alex Turner, of Chelmsford, Massachusetts. He has more than 270 combat hours over Libya and Iraq.
"The president thanked the pilot for his service to the country and expressed his relief that the pilot was not seriously injured," said White House spokesman Josh Earnest.
The Thunderbirds had just finished their traditional performance at commencement for Air Force Academy cadets, screaming overhead just as the graduating officers tossed their white hats skyward.
The jets then did multiple fly-bys over the academy's football stadium, where the ceremony took place, blasting by in tight formations or looping high overhead.
Read alsoAustralian families demand compensation from Russia over MH17 crashThere was no obvious sign of trouble with any of the jets during the performance.
"What I heard was a big boom," said Justin Payne, who was working on wallpaper inside his house when the plane struck the ground. "I ran outside. Three or four degrees to the left and that jet would have hit our house."
Payne said the fuselage slid about 2,000 feet before coming to rest. He said it appeared the nose was ripped from the rest of the F-16.
Authorities quickly cordoned off the area, and a hazardous materials crew was suiting up to inspect the site, said Payne, who added he was ordered to stay inside his house.
The Thunderbirds are the Air Force's precision flying team, known for their red, white and blue painted F-16 fighter jets. The unit, based out of Nevada's Nellis Air Force Base, will perform more than 40 shows in 2016, according to its website. The vaunted aerial demonstration team has been performing air demonstrations since 1947.