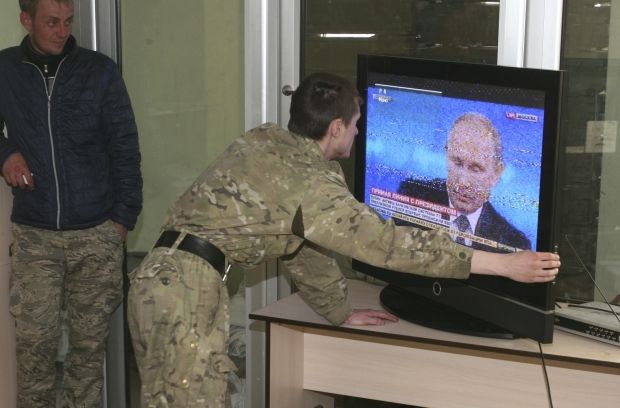 REUTERS
After NTV accused a newspaper of doing Washington's bidding, independent media have rallied to defend their colleagues, launching a nationwide campaign to denounce propaganda on state television, according to RFE/RL.
On June 8, independent Russian newspapers began publishing warnings in their television listings cautioning readers against watching NTV.
"Beware!" the warnings read. "Under the guise of journalistic materials on the NTV channel you may receive distorted information or propaganda."
The man behind the campaign is Valery Bezpyatykh, the editor in chief of Gorodskie Vesti, a weekly newspaper in the small Urals town of Revda.
"We are seeing a disquieting number of materials that are potentially disputable in terms of journalism," he told RFE/RL. "I don't think there can be any change without such campaigns."
Like many journalists in Russia, Bezpyatykh was outraged by the accusations leveled in NTV's March 4 program The State Department's Debtors.
NTV alleged that Russia's opposition media was "secretly funded" by the U.S. State Department and billionaire philanthropist Georges Soros.
It singled out several independent regional media including Yakutsk Vecherny, a popular newspaper in Siberia's Yakutia region, and accused them of serving the interests of the United States because they received loans from a U.S.-based NGO.
Read alsoUkraine slaps sanctions against Russian media executives for propagandaOn May 27, Yakutsk Vecherny protested by publishing a warning against NTV and Rossiya, another pro-Kremlin state channel, in its television listings.
The initiative has been widely shared on social media and has drawn applause from many Russians who see it as a bold act of defiance amid a deepening clampdown on critical reporting.
Read alsoFrench TV channel busts Russian journos on facts distortionThe Alliance of Independent Regional Publishers has thrown its weight behind the media outlets targeted by NTV, slamming the March 4 program as a "spurious denunciation."