ISIS leader 'dead' in U.S.-led air strike – media
16:28, 14 June 2016
World
An Islamic State-linked news agency has claimed that the terror boss was "killed by coalition air strikes on Raqqa on the fifth day of Ramadan," according to Mirror.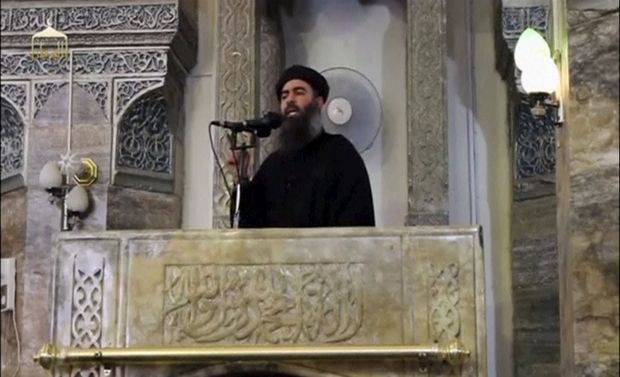 REUTERS
Abu Bakr al-Baghdadi – the secretive leader of Islamic State – has been killed, according to reports, Mirror.co.uk reports.
Born in 1971 in Samarra, Iraq, those who knew al-Baghdadi as a young man have described him as being "shy and unimpressive."
He was first named Ibrahim Awwad Ibrahim Ali Muhammad al-Badri al-Samarrai, but took on the name al-Baghdadi later in life.
Up until 2004 he lived in a mosque located in Tobchi, a poor neighborhood on the outskirts of Baghdad.
There is some debate around when al-Baghdadi first began his twisted "career" in terrorism.
Some say that he was already an extremist before the invasion of Iraq and fall of Saddam in 2003.
The fact that little is known about when he begun terrorist activities is typical of al-Baghdadi.
Patrick Skinner of the Soufan Group, a security consulting firm, has said of the terrorist: "They know physically who this guy is, but his back story is just myth."
Patrick Johnston of the RAND Corporation added: "He's managed this secret persona extremely well, and it's enhanced his group's prestige – young people are really attracted to that."
After the Iraq war begun, al-Baghdadi began jihadist activity.
He was arrested between February and December 2004 as a "civilian internee."
Read alsoTwo French police killed in attack claimed by ISThe terrorist was eventually released as a "low level prisoner."
In 2006 he joined the Mujahideen Shura Council, serving on the "sharia committee."
The group was then renamed the Islamic State of Iraq, with al-Baghdadi becoming a general.
Al-Baghdadi was named leader of the Islamic State of Iraq in 2010.
The following year, Osama bin Laden died and al-Baghdadi paid tribute to his sickening terrorist activities.
Meanwhile, the Islamic State of Iraq continued a series of devastating terror attacks in Iraq, which had become destabilized following the Iraq War.
In 2013, al-Baghdadi oversaw the expansion of the organization.
It broke away from its links with al-Qaeda - previously acting as the "Iraqi division" of the terror group – and expanded into Syria, naming itself the Islamic State of Iraq and the Levant.
Defense sources believe that al-Baghdadi's close links to contacts in Saudi Arabia have allowed ISIS to expand thanks to his ability to raise private financing from those within the country, as well as Qatar.
A statement from a news agency linked to the terrorist organization this morning said: "Abu Bakr al-Baghdadi has been killed by coalition air strikes on Raqqa on the fifth day of Ramadan."
In a statement from Iraqi security forces, officers said: "Iraqi aircraft hit Baghdadi's convoy as it was moving towards Karabla to attend a meeting of the Daesh [ISIS] terrorist leaders."
It is claimed he has three wives – one Syrian, and two Iraqis.
If you see a spelling error on our site, select it and press Ctrl+Enter