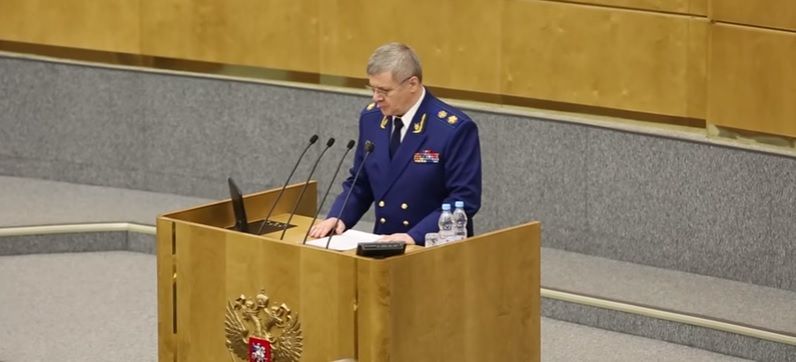 Video screenshot
Federation Council Speaker Valentina Matviyenko said Chaika had displayed himself as "exceptionally professional and demanding" head of the Prosecutor-General's Office, which under his guidance "has been through a no easy process of reform and retained the highest credibility with the population," TASS wrote.
"These days it is the prosecutors that exercise control and supervision of the observance of legislation and human rights. I believe that the president's proposal for appointing Yuriy Chaika for another term is absolutely reasonable and there are all grounds for that," she said.
Read alsoRussian Prosecutor General says Right Sector plots coup in RussiaThe heads of the FC's committees concerned – those for constitutional legislation (Andrei Klishas) and defense (Viktor Ozerov) said that their committees had unanimously supported Chaika's candidature in view of his professional qualities and high level of interaction with the Federation Council.
After the voting, Chaika was sworn in.
On Tuesday, the Federation Council's constitutional legislation and defense committees recommended the upper house to appoint Chaika prosecutor-general for another term. The committees on the rules of procedure and social policies came out for that proposal, too. Upper house members pointed to the constructive cooperation between the FC and the Prosecutor-General's Office and prosecutors' active involvement in the lawmaking process.
Under part 2 of article 129 of the Russian Constitution, the prosecutor-general and his deputies are appointed and dismissed by the Federation Council on the basis of Russian president's proposals.
Chaika has been prosecutor-general since 2006. His previous term of office was due to expire on June 22. The president's proposal for his reappointment was submitted to the Federation Council on May 23, but its consideration was postponed until he was back from vacation.