Obama calls for action on guns after meeting with Orlando families
12:56, 17 June 2016
World
U.S. President Barack Obama pleaded with lawmakers to take action to prevent gun violence after meeting with families of the victims of Sunday's mass shooting in Orlando, according to The Hill.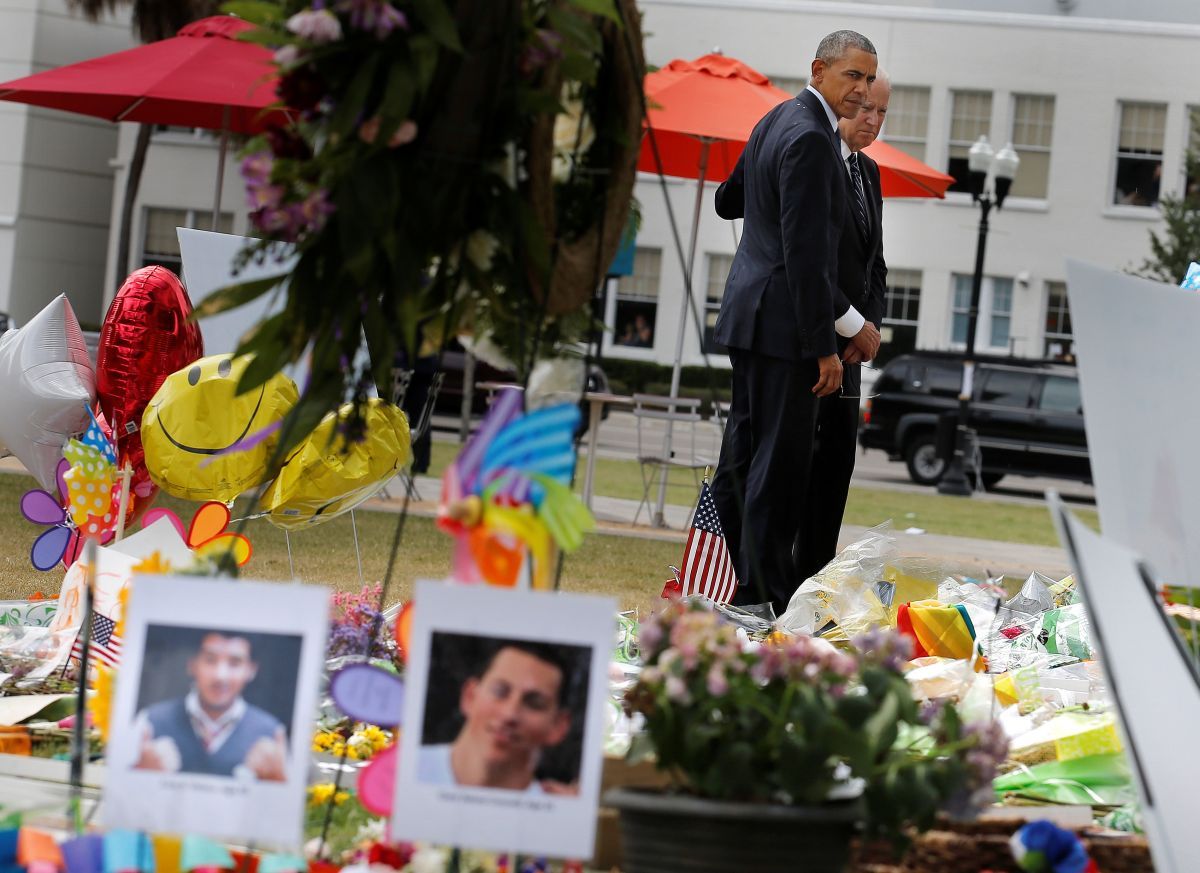 REUTERS
The president pledged to be "relentless" in going after international terrorist groups but said passing new gun laws is a crucial step in preventing "homegrown" attacks like the massacre at a gay nightclub in Florida, The Hill wrote.
"Today, once again, as has been true too many times before, I held and hugged grieving family members and parents and they asked, "Why does this keep happening?'" Obama said, standing beside U.S. Vice President Biden at a makeshift memorial for the victims.
"They pleaded that we do more to stop the carnage," he added. "They don't care about the politics. Neither do I, neither does Joe, and neither should any parent out there. This debate needs to change."
Obama vented his frustration, challenging Republicans who have stymied his efforts to enact stricter gun laws in response to a steady stream of mass shootings since the 2012 massacre at Sandy Hook Elementary School in Newtown, Conn.
"The notion that the answer to this tragedy would be to make sure that more people in a nightclub are similarly armed to the killer defies common sense," he said. "Those who defend the easy accessibility to assault weapons should meet these families and explain why that makes sense."
Obama praised the Senate for agreeing to vote on measures that would prevent people on terrorist watchlists from purchasing firearms, saying it would take "more than our military" to prevent future attacks.
"I truly hope that senators rise to the moment and do the right thing," he said. "We will not be able to stop every tragedy... but we can stop some tragedies. We can save some lives. We can reduce the impact of a terrorist attack if we're smart.
"If we don't act, we will keep seeing more massacres like this because we will be choosing to allow this to happen."
The Orlando attack renewed a fierce debate in Congress over gun control.
Read alsoOmar Mateen's wife tried to talk him out of Orlando attack – mediaThe Senate has scheduled votes for Monday on several proposals that would keep suspected terrorists from purchasing weapons. But much to Obama's chagrin, similar measures failed to pass after last December's shooting in San Bernardino, Calif.
GOP leaders agreed to the votes after Sen. Chris Murphy (D-Conn.), took control of the Senate floor for about 15 hours to demand consideration of gun control measures.
The president's comments capped off what appeared to be an emotionally draining day.
Obama and Biden met privately with families, law enforcement officials, first responders and staff from Pulse nightclub for around two hours at Amway Center, the 17,500-seat home of the city's professional basketball team.
After the meeting, Obama and Biden both laid bouquets of 49 white roses — one for each person killed — at the memorial site.
The president's 10th visit to a community struck by a mass shooting took on a different flavor from some of his past trips.
Obama did not deliver a major speech, as he did after the shooting at a historically black church in Charleston, S.C., last year or after the 2011 massacre at an event for former Rep. Gabby Giffords (D) in Tucson, Ariz.
The president spoke to a small group of reporters instead.
The Orlando attack was the deadliest mass shooting in U.S. history. It stoked fears about the threats posed by terrorism, gun violence and persecution of LGBT individuals, all problems that have shaped the nation during Obama's presidency.
The shooting was carried out by Omar Mateen, 29, who pledged allegiance to Islamic State in Iraq and Syria during attack. Mateen was a U.S. citizen born to Afghan immigrants.
Read alsoOrlando attack: UN officials urge stand against spread of hatred, violent extremismBut his exact motives remain unclear, as evidence has emerged that Mateen may have been struggling with his own sexuality. He reportedly visited the club on multiple occasions and contacted men on gay dating apps.
While Obama touched on the politically fraught topic of gun control, he also preached unity.
He said the families of the victims "could be our families. In fact, they are our families. They are part of the American family."
He also called for an end to "discrimination and violence against our brothers and sisters in the LGBT community."
The president extended a bipartisan olive branch to Sen. Marco Rubio (R-Fla.), inviting him to fly on Air Force One down to Orlando. He was also greeted by Gov. Rick Scott (R), another political adversary, on the tarmac when he landed earlier Thursday.
The political debate over the shooting raged back in Washington as Orlando continued to grieve. 
Sen. John McCain (R-Ariz.) accused Obama of being "directly responsible" for the Orlando shooting, comments that he later walked back.
His remark came on the heels of insinuations by presumptive Republican presidential nominee Donald Trump that Obama's sympathy for Muslims prevents him from fighting radical Islamic terrorist groups.
If you see a spelling error on our site, select it and press Ctrl+Enter