Russian fans' chief arrested again in France
11:17, 21 June 2016
World
The leader of a Russian fan union with alleged far-right links was arrested at Russia's game with Wales on Monday and now faces being deported from France for the second time in a week, The Guardian reported citing the Associated Press.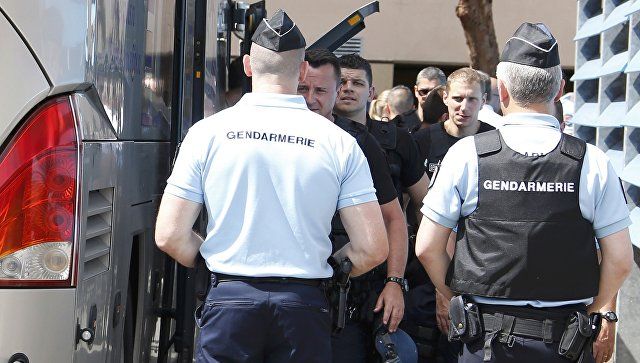 REUTERS
"Detained tonight in the Toulouse stadium, Alexander Shprygin was placed in custody and his situation will be dealt with either administratively or with a judicial procedure," A French Interior Ministry spokesman, Pierre-Henri Brandet told The Associated Press by text message, The Guardian reported.
The detention comes three days after Shprygin was deported from France after authorities accused him of involvement in hooliganism.
Read alsoFrance wants to deport almost 50 Russian soccer fansDeported last week along with other 20 Russians, Shprygin said on Twitter he had re-entered France by "an unusual route under cover of night", posting pictures of what appeared to be Barcelona airport. He appeared to have then travelled into France over land.
While Shprygin's European Union visa was not cancelled when he was deported last week, he was forbidden to enter France and could have been immediately removed if he had flown into a French airport.
Shprygin also posted pictures near the stadium with men he said were Russian consuls.
Shprygin, who sits on a Russian government commission overseeing Moscow's preparations for the 2018 World Cup, has admitted to posting pictures of far right symbols online but says neither he nor his organisation is racist.
Read alsoUK suspects Russian football hooligans have Kremlin linksThe organization the man heads holds official recognition from the Russian Football Union and has worked with the Russian government in the past.
UEFA-affiliated anti-discrimination group the Fare Network has said his role in Russian football "shows the mechanics of infiltration of the far right into fan scenes" in Russia.
If you see a spelling error on our site, select it and press Ctrl+Enter