Tusk on Brexit: "What doesn't kill you, makes you stronger"
13:20, 24 June 2016
World
European Council President Donald Tusk says the 27 leaders are determined to keep unity, according to an UNIAN correspondent in Brussels.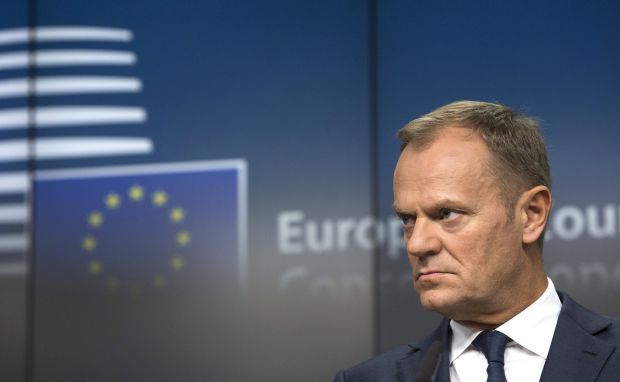 REUTERS
"All the procedures for the withdrawal of the UK from the EU are clear and set out in the Treaties. In order to discuss the details of further proceedings, I have offered the leaders an informal meeting of the twenty seven in the margins of the European Council summit. And I will also propose to the leaders that we start a wider reflection on the future of our Union," Tusk said in Brussels on Friday, commenting on the results of the UK referendum regarding the exit from the EU.
"There's no hiding the fact that we wanted a different outcome of yesterday's referendum. I am fully aware of how serious, or even dramatic, this moment is politically. And there's no way of predicting all the political consequences of this event, especially for the UK. It is a historic moment but for sure not a moment for hysterical reactions. I want to reassure everyone that we are prepared also for this negative scenario," he said.
Read alsoEP to meet in extraordinary session Tuesday to adopt resolution over Brexit: Schulz"As you know the EU is not only a fair-weather project. Over the past two days I have spoken to all the EU leaders, I mean Prime Ministers and Presidents as well as heads of the EU institutions, about the possibility of a Brexit. Today, on behalf of the 27 leaders I can say that we are determined to keep our unity as 27. For all of us, the Union is the framework for our common future."
"I would also like to reassure you that there will be no legal vacuum. Until the United Kingdom formally leaves the European Union, EU law will continue to apply to and within the UK. And by this I mean rights and obligations," he said.
Read alsoRada speaks about negative prospects for Ukraine after UK referendum"Finally, it's true that the past years have been the most difficult ones in the history of our Union. But I always remember what my father used to tell me: What doesn't kill you, makes you stronger," Tusk added.
As reported earlier, the EU summit is scheduled for June 28-29.
If you see a spelling error on our site, select it and press Ctrl+Enter