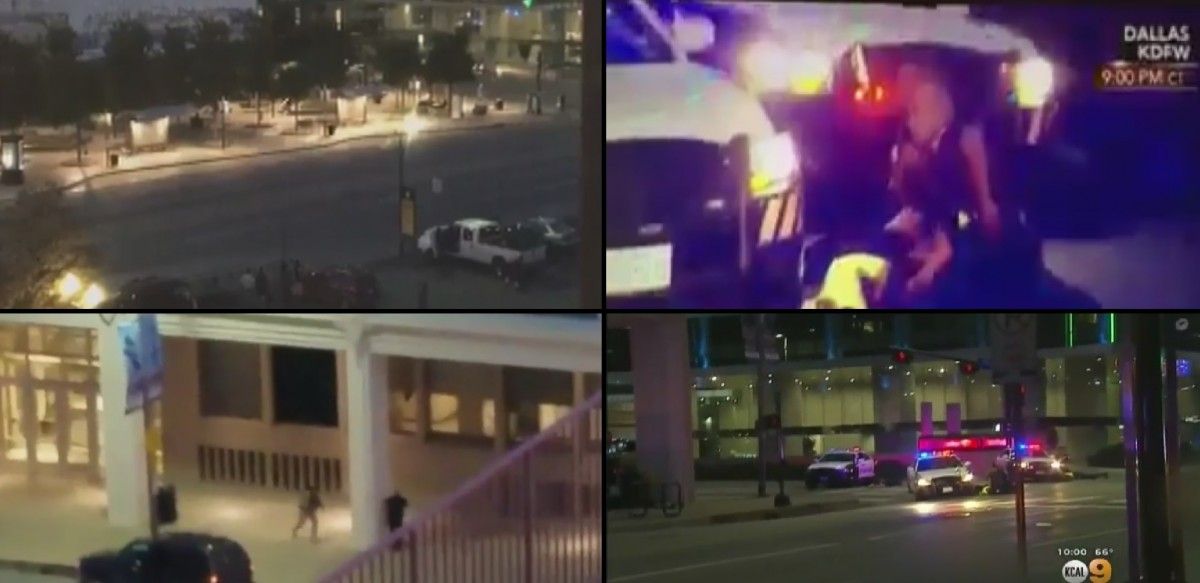 One of the videos shows a man with an automatic rifle, who first shoots while hiding behind the columns of the building, then shooting a police officer pointblank. The video was filmed from the rooftop of a nearby building.
Attention! Graphic content, scenes of violence, and explicit language in videos below. Not recommended for viewing under the age of 18.
This moment was also captured by another witness who was right next to the scene, hiding behind a stone parapet of an underground parking.
The other video shows several killed police officers, lying next to police vehicles.
The  eyewitnesses also posted videos showing the beginning of the attack. They show the panicking protesters dispersing, while police forces arrive.
As UNIAN reported earlier, during a mass protest in Dallas against the killings of Afro-Americans by law enforcement officials, five policemen were killed.
According to eyewitnesses, at least two men opened fire at the crowd, one of whom sported a bullet-proof vest. According to local police, three suspects are in custody by now.
The protests across the country were sparked by a public outrage caused the incidents in Louisiana and Minnesota, involving police officers killing two black men.
In Louisiana, two police officers pulled the man to the ground and after that, one of the cops shot the person several times. A video was also released showing the incident. The U.S. Department of Justice launched the investigation.
Later the same day, in Minnesota, another black man was shot by police during a routine traffic stop.
The victim's girlfriend livestreamed the aftermath of the tragedy. She said says that her boyfriend had warned police officers that would get his driver's license and registration from his pocket. But when he reached into his pocket, the police officer shot him four times. The video shows a police officer's hand with a gun aimed at the wounded man. In the video, the officer is heard shouting: "I told him not to reach for it!"