Silvio Berlusconi, the Italian Prime Minister, used the remnants of a broken podium to toast President Bush at a White House dinner last night, Times reported.
In his haste to honour Mr Bush during a Columbus Day dinner, Mr Berlusconi accidentally bumped into the podium from which he was speaking. It fell apart, leaving the Italian to advance on the President with just its top and attached microphones.
The crowd of prominent Americans, Italians, and Italian-Americans burst into appreciative laughter and applause.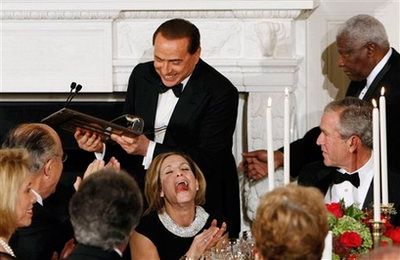 "I'm 100-per cent confident that we'll be friends forever," Mr Berlusconi said.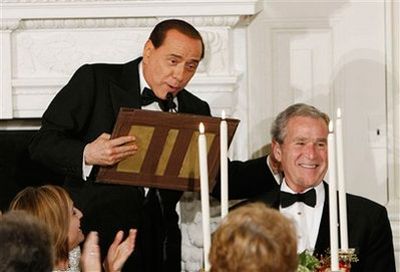 Earlier, Mr Bush singled out Supreme Court justices, Antonin Scalia and Samuel A. Alito Jr, as the first Italian-Americans to hold their positions. Mr Bush also gave Nancy Pelosi, an Italian American and a Democrat, a nod for being the first woman speaker, which was translated into Italian as "prima donna" - which also raised a laugh.
The guests, including singer Frankie Valli, were entertained by performances from the hit musical "Jersey Boys" including some of the greatest hits of Valli and the Four Seasons, including "Big Girls Don't Cry; and "Walk Like a Man".
At the end of the performance, Mr Bush jumped up onto the stage to thank the performers, joined quickly by Mr Berlusconi. "Frankie, come on up," Mr Bush said, hugging Mr Valli as he came on stage.