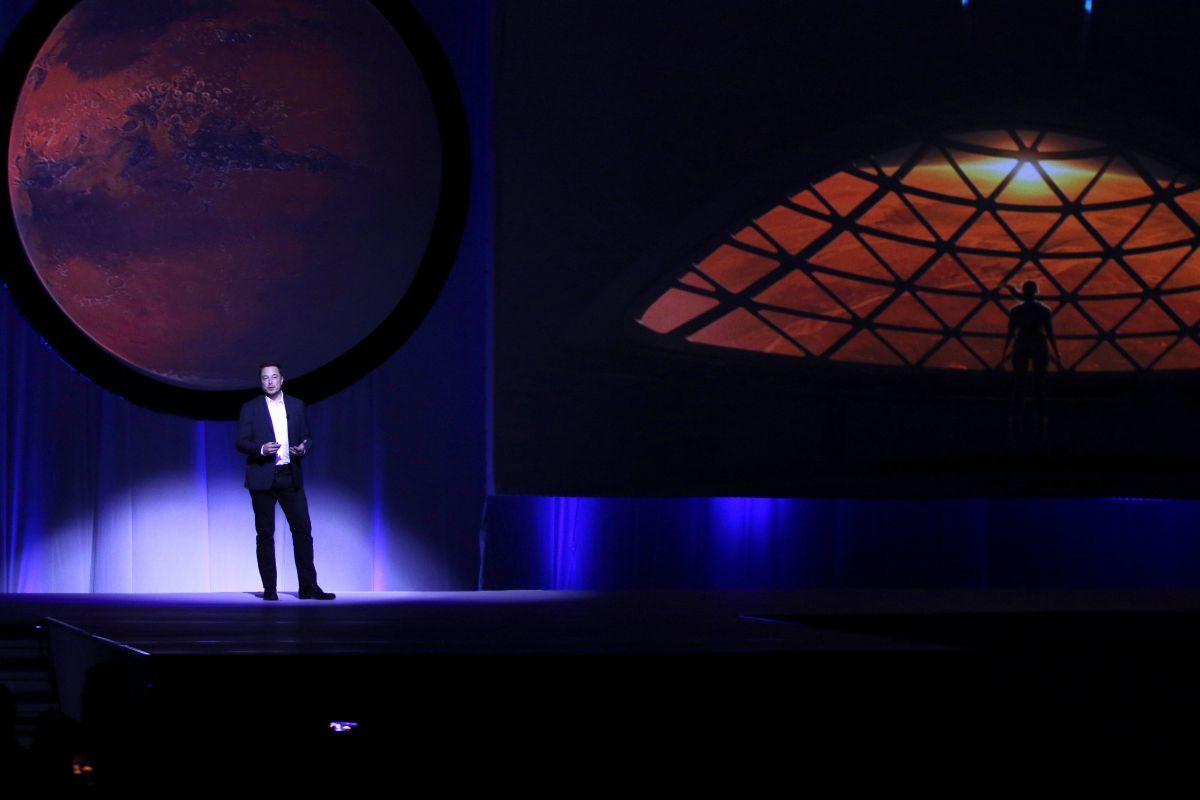 REUTERS
"What I really want to try to achieve here is to make Mars seem possible – like it's something we can achieve in our lifetimes," Musk told an audience in his keynote speech at the International Astronautical Congress in Guadalajara, Mexico, on Tuesday, The Guardian reports.
He said there were "two fundamental paths" facing humanity today. "One is that we stay on Earth forever and then there will be an inevitable extinction event," he said. "The alternative is to become a spacefaring civilization, and a multi-planetary species."
In order to achieve this goal, Musk outlined a multi-stage launch and transport system, including a reusable booster – like the Falcon 9, which SpaceX has already successfully tested – only much larger. It could initially carry up to 100 passengers, he said.
Read alsoISS crew launch in upgraded Soyuz MS-series vehicleThe first ship to go to Mars, Musk said, would be named Heart of Gold as a tribute to the ship powered by an "infinite improbability drive" from Douglas Adams' science fiction novel The Hitchhiker's Guide to the Galaxy.
Musk also outlined a system by which fuel could be synthesized on Mars from water and carbon dioxide in order to fuel return journeys to Earth.
Read alsoRe-engined Antares with Ukrainian-made core stage completes ground test firingHe estimated the current cost of sending someone to Mars at "around $10bn per person", though it was not clear if he meant using existing rocket systems or on the initial flight of his proposed system. He said that there would be price improvements over time because of the reusability of the spacecraft, in-orbit refuelling and on-Mars propellant production that would reduce that cost by "orders of magnitude".
NASA said in a statement that it welcomed Musk's plans. "NASA applauds all those who want to take the next giant leap – and advance the journey to Mars. We are very pleased that the global community is working to meet the challenges of a sustainable human presence on Mars. This journey will require the best and the brightest minds from government and industry, and the fact that Mars is a major topic of discussion is very encouraging."