ABC News: Rival Syria resolutions by West and Russia defeated at UN
11:58, 09 October 2016
World
Rival resolutions on Syria backed by the West and Russia were defeated in the UN Security Council on Saturday, offering no relief to the besieged city of Aleppo and leaving the key powers even more divided over a course of action in the war-ravaged country, according to ABC News.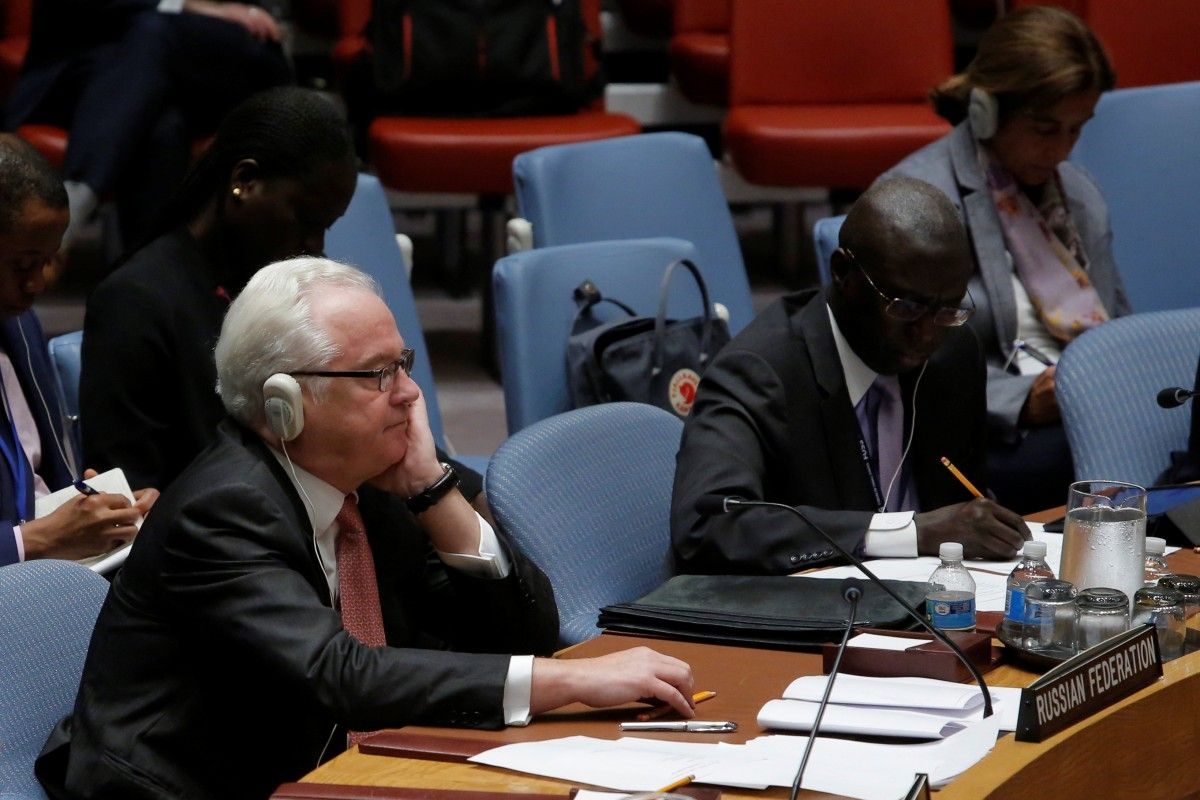 REUTERS
Russia vetoed a French-drafted resolution demanding an immediate halt to the bombing campaign that the Syrian government and Russia are carrying out against rebel-held districts in Aleppo, ABC News reported.
The rival Russian draft which made no mention of a bombing halt was rejected because it failed to get the minimum nine "yes" votes needed for approval by the 15-member council.
Read alsoLithuania's FM: Aggressor in Ukraine cannot be peacemaker in SyriaRussia's UN Ambassador Vitaly Churkin, the current rotating council president, said before the votes that members were engaging in "one of the strangest spectacles" in the Security Council, because they were meeting knowing that neither resolution would be adopted.
"This waste of time is inadmissible," he said.
The votes reflected the deep divisions in the UN's most powerful body which is charged with ensuring international peace and security but has totally failed to take action to end the more than 5-year Syrian conflict which has killed over 300,000 people and displaced millions.
The French-backed resolution received 11 "yes" votes, two "no" votes from Russia and Venezuela, and abstentions from China and Angola. The Russian resolution received four "yes" votes, nine "no" votes, and two abstentions.
Read alsoReuters: U.S. slams Russian 'barbarism' in SyriaIt was the fifth veto by Russia of a Western-backed resolution aimed at ending the Syrian conflict.
Until Friday afternoon, the French resolution was the only one before the council. But Russia unexpectedly introduced a rival resolution in a bid take some attention off its expected veto.
After the council rejected the Russian draft, Britain's UN Ambassador Matthew Rycroft addressed Churkin directly saying: "A lonely veto and then just four votes in favor of your text — a double humiliation."
"This text was a cynical attempt to divert attention from your veto today that once again denied any hope to the people of Aleppo," Rycroft said. "It's a sham, just as Russia's hollow commitment to a political process in Syria is a sham."
U.S. deputy ambassador David Pressman followed up saying Russia and Syria will undoubtedly claim that any devastation in Aleppo that "they are raining down is directed at terrorists," not at the civilian buildings they are clearly striking.
"What Russia wants is for there to be more talk while they seek to take the city by brutal force," Pressman said. "What we want is less talk and more action for them to stop the slaughter."
Read alsoSyrian opposition demands EU sanction RussiaBoth the French and the Russian resolutions urged immediate implementation of that agreement and "immediate, safe and unhindered humanitarian access throughout Syria."
Many council members expressed dismay at the council's continued failure to end the suffering of the Syrian people.
If you see a spelling error on our site, select it and press Ctrl+Enter