Venezuela protests against Maduro escalate, dozens injured - Reuters
Venezuela's increasingly militant opposition stepped up its push to oust leftist leader Nicolas Maduro on Wednesday with protests that drew hundreds of thousands but also saw unrest leading to dozens of injuries and arrests, according to Reuters.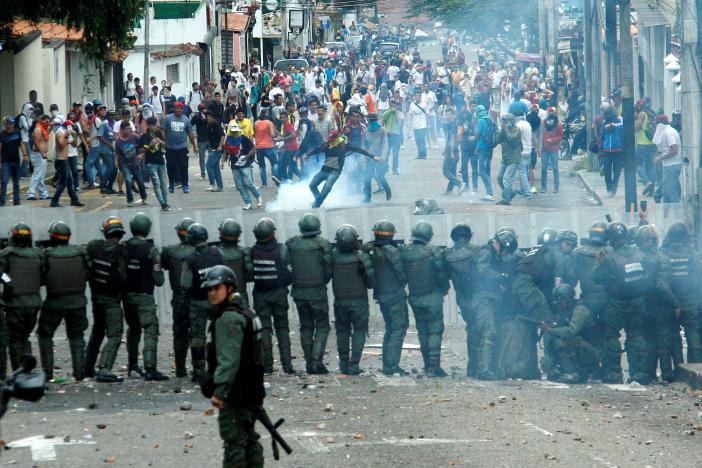 REUTERS
In an incident sure to inflame the already polarized situation, a policeman died after being shot on Wednesday night in central Miranda state, Reuters reports.
The government blamed opposition activists clashing with security forces on a highway out of Caracas. The police force of Miranda, whose governor is opposition leader Henrique Capriles, confirmed the death but did not link it to protesters.
Enraged by last week's suspension of their push for a referendum to remove Maduro, Venezuela's opposition has sharply ramped up its tactics in recent days.
After launching a political trial against Maduro on Tuesday in the National Assembly, the opposition coalition held nationwide marches dubbed "Takeover of Venezuela" on Wednesday.
Two-time presidential candidate Capriles blamed authorities for what he said were over 120 people injured and some 147 protesters detained.
Read alsoVenezuela seizes U.S. factory after closure due to lack of raw materialsCoalition leaders called for a national strike for Friday, and a Nov. 3 march to the Miraflores presidential palace in Caracas, unless the election board allows the referendum.
Maduro, the unpopular 53-year-old successor to Hugo Chavez who has presided over an unprecedented economic crisis, accuses the opposition of seeking a coup with U.S. help and has vowed there will be no plebiscite on his rule.
Maduro says low oil prices and a U.S.-led "economic war" against him are responsible for the recession, and has vowed to stand firm. "Maduro is not leaving!" several thousand supporters chanted at the government rally.
If you see a spelling error on our site, select it and press Ctrl+Enter