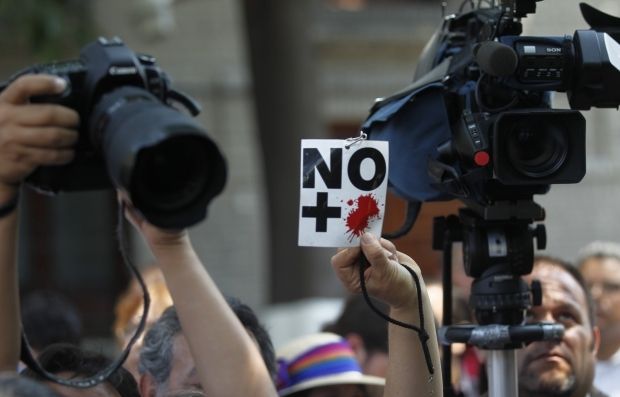 REUTERS
"Authorities throughout the OSCE region are failing to take action to reduce the high number of attacks against journalists, and they are failing to confront the issue of impunity," Mijatovic said, according an OSCE press release on the International Day to End Impunity for Crimes Committed against Journalists.
In December 2013, the United Nations General Assembly adopted a landmark resolution on journalist safety and proclaimed November 2 as the International Day to End Impunity. It was the first time the General Assembly adopted a resolution directly addressing journalists' safety and the issue of impunity.
"This date serves as a reminder of the collaborative effort necessary to bring issues of criminal impunity to light," Mijatovic said. "The grim facts are that nine out of every ten murders of journalists are never solved and that the vast majority of physical attacks against journalist are not investigated. These statistics alone show that we can never give up and never give in to the fight for journalists' safety and media freedom."
Read alsoUkraine asks Germany to help in Sheremet murder probeThe long list of murdered journalists in the OSCE region in whose cases the perpetrators still remain at large includes, among many others, Slavko Curuvija (1999), Georgy Gongadze (2000), Martin O'Hagan (2001), Milan Pantic (2001), Veronika Cherkasova (2004), Dusko Jovanovic (2004), Paul Klebnikov (2004), Elmar Huseynov (2005), Anna Politkovskaya (2006), Alisher Saipov (2007), Hrant Dink (2007), Natalya Estemirova (2009), Khadzhimurad Kamalov (2011), Akhmednabi Akhmednabiyev (2013), and Pavel Sheremet (2016).
"The names of these brave journalists are not only proof of the failure in safeguarding members of the media, they are also evidence of the low or even non-existent political will to tackle the issue of impunity," Mijatovic said. "Stern rhetoric is not enough, many participating States need to turn words into deeds and specific action."