DW: Germany's Oettinger under fire over alleged ethics breach
15:56, 16 November 2016
World
Germany's EU commissioner Gunther Oettinger took to Twitter late on Tuesday to deny allegations made in a report by the website "EUobserver" that he had violated the ethics rules of the EU Commission by flying to Budapest in a private jet belonging to German businessman Klaus Mangold, according to Deutsche Welle.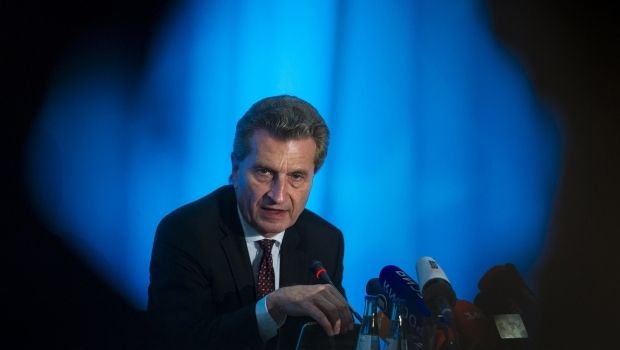 REUTERS
Oettinger flew in May to visit Hungarian Prime Minister Viktor Orban in the plane of former Daimler manager Mangold, thus possibly breaching EU rules forbidding the acceptance of presents valued at more than EUR 150 ($161,22), the report said, DW reports.
Oettinger's spokeswoman also put the case down to timetable issues, saying he had been forced to fly in Mangold's plane after his tight schedule prevented him from taking a planned flight to Hungary, where he was to have dinner with Orban on the eve of a conference on the "car of the future."
She said that the Hungarian authorities paid for Oettinger's accommodation in Budapest, but did not give details on who paid for the flight - Mangold or Hungary.
She also described the allegations that Oettinger had violated ethics rules as "without foundation."
Klaus Mangold was described in the "EUobserver" as a Kremlin-friendly lobbyist who is the Russian honorary consul in the German state of Baden-Württemberg, also Oettinger's home state.
The allegations come just two weeks after Oettinger, who is the commissioner for Digital Economy and Society, was forced to apologize for a speech in Hamburg in which he called Chinese "slant-eyed" and cast seeming slurs on quotas for women and same-sex marriage.
He is slated to become the next EU budget commissioner.
Allegations are unfounded: Due to meetings, I could not take scheduled flight to be in time for dinner PM Orban. HU suggested plane Mangold.

— Günther H. Oettinger (@GOettingerEU) 15 ноября 2016 г.
If you see a spelling error on our site, select it and press Ctrl+Enter