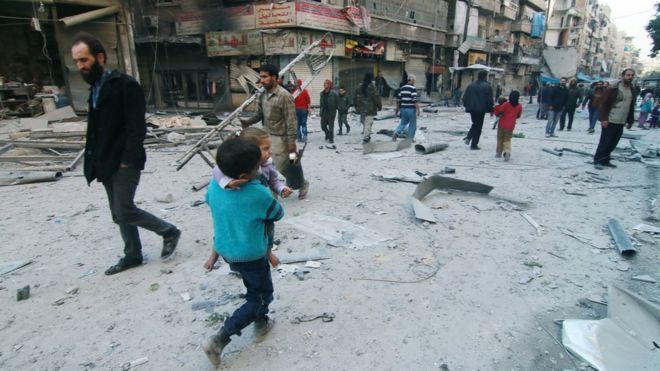 Aleppo / bbc.com
Najib al-Ansari, an Aleppo-based civil defense official, told Anadolu Agency that at least 150 others had been injured in airstrikes – which, he said, were being conducted by both Russian and Syrian regime warplanes – within the same period.
Following three weeks of relative calm, opposition-held parts of Aleppo have come under fierce bombardment since Tuesday afternoon, according to local sources.
Al-Ansari said the latest spate of attacks featured the use of cluster and vacuum munitions, as well as barrel bombs.
Read alsoRussia's major offensive in Syria: airstrikes on Aleppo resumeThe reports by local sources, however, contradict claims by Russian Defense Ministry Igor Knonashenkov, who recently dismissed allegations that Russian warplanes were still striking Aleppo.
"Russian jets have not carried out any strikes on Aleppo for the last 28 days," Knonashenkov said in a Tuesday statement.
Syria has been locked in a devastating civil war since early 2011, when the Assad regime cracked down on pro-democracy protests – which erupted as part of the "Arab Spring" uprisings – with unexpected ferocity.
Since then, hundreds of thousands of people are believed to have been killed and millions more displaced by the conflict.
On September 30 of last year, Russia launched an extensive air campaign in Syria with the aim of propping up the embattled regime of Syrian leader Bashar al-Assad.