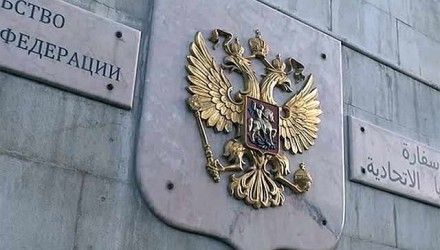 Russia's Foreign Ministry
"At 13:00 and 13:19 [Moscow time] on December 28, the Russian embassy in Syria was shelled by terrorists. One mine, which, fortunately, did not explode, fell in the courtyard of the compound of the Russian diplomatic mission's administrative buildings," the ministry said in a comment, TASS wrote.
"The second mine fell in the close vicinity to its territory. Combat engineers have been involved in defusing unexploded ordnance," the comment said.
Read alsoRussian embassy in Syria comes under mortar attackMoscow considers "this new provocation by extremists opposing the peaceful settlement in Syria as the confirmation of their intention to continue sowing terror and violence, support the atmosphere of fear among residents of the Syrian capital, delivering wicked blows from their hidden shelters under the cover of the 'human shield,'" the ministry said.
The ministry also stated that there is still a real threat to the Russian embassy in Damascus and its personnel from terrorist groups.
"We have to state that there remains a real threat to the embassy in Russia and its employees from the terrorist groups entrenched in Damascus suburbs," the Foreign Ministry said.
"This reaffirms the urgent need for prompt elimination of all such hotbeds of terrorism."
Those who counteract threats and challenges of terrorism should vehemently condemn the strikes on Russia's embassy in Damascus, the Foreign Ministry said.
"Repeated shelling of the Russian diplomatic mission in Damascus should get a corresponding evaluation and be vehemently condemned by all those who de facto counteract challenges and threats of terrorism."