Russian student Ksenia Sukhinova was crowned as new Miss World at the 58th international beauty  pageant in Johannesburg on Saturday.
Sukhinova, a 21-year old student from Siberia (Image gallery), is the winner of the national Miss Russia 2007 contest. She also won the contest`s top model award and took the third place in the swimsuit competition.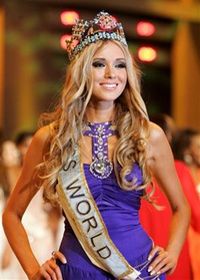 First runner up was Miss India, Parvathy Omankuttan.Second runner up was Miss Trinidad and Tobago, Gabrielle Walcott.
According to organizers, one billion people from 187 countries watched the broadcast of the beauty pageant.
Yulia Kurochkina was the first Russian winner of the Miss World beauty pageant in 1992.
RIA Novosti
, pictures by AP