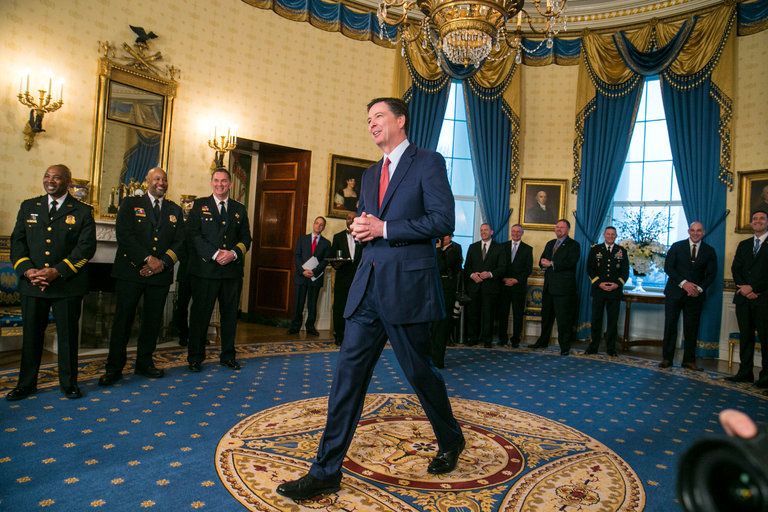 The New York Times
The FBI director, James B. Comey, told his top agents from around the country that he had been asked by President Trump to stay on the job running the federal government's top law enforcement agency, according to people familiar with the matter, NYT reported Tuesday.
A decision to retain Mr. Comey would spare the president another potentially bruising confirmation battle. It also would keep Mr. Comey at the center of the FBI's investigation into several Trump associates and their potential ties with the Russian government.
Read alsoReuters: FBI clears Clinton in latest email review two days before electionRetaining Mr. Comey could also help calm the bureau's work force, which has been rattled after a tumultuous few months in which the FBI and the director himself were sharply criticized for moves that many felt influenced the outcome of the presidential election.
During the campaign, Mr. Trump harshly criticized the FBI and Justice Department for not bringing criminal charges against Hillary Clinton in connection with her use of a personal email server. After Mr. Trump was elected in November, he said in a nationally televised interview that he had not made up his mind about whether he would ask Mr. Comey to resign.
When Mr. Comey and the president-elect met in Trump Tower for the first time earlier this month for an intelligence briefing, Mr. Trump told the FBI director that he hoped he would remain in his position, according to people briefed on the matter. And Mr. Trump's aides have made it clear to Mr. Comey that the president does not plan to ask him to leave, these people said.
Read alsoCNN: Intel chiefs presented Trump with claims of Russian efforts to compromise himThose who described the plans for the FBI director spoke on the condition of anonymity because they did not want to be identified discussing confidential conversations between Mr. Trump, his aides and Mr. Comey.
Representatives for the FBI and White House declined to comment.