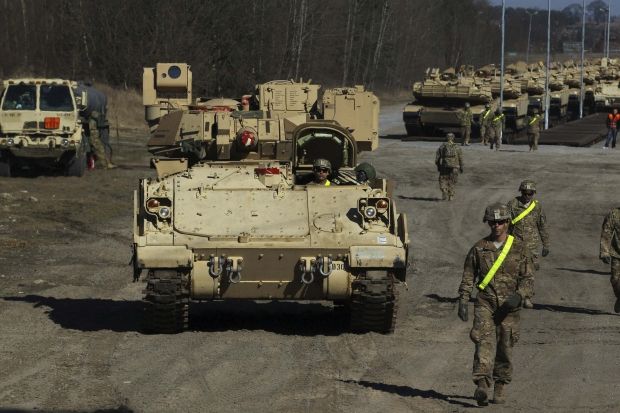 REUTERS
"These Iron Soldiers of the 3rd Armored Brigade Combat Team send a clear signal of our commitment as they round out our joint team's capability in a very significant way," said Lt. Gen. Tim Ray, speaking in Poland at a Jan. 30 ceremony for the 3rd ABCT, according to a EUCOM press release, Military.com reports.
Read alsoLithuania tells NATO to act over build-up of Russian missiles - The Times"The events in 2014 and the trans-Atlantic declarations from the Wales and Warsaw Summits demonstrate the indivisibility and unity of the alliance in light of Russia's invasion into Ukraine. These events forged a commitment, and a plan, to build our defense and deterrence posture in Europe," Ray said.
Meanwhile, fighting between government troops and Russia-backed militants rebels in eastern Ukraine escalated. Oleksandr Turchynov, chairman of the Ukrainian Security and Defense Council, said Tuesday that heavy shelling around Avdiivka killed at least three government troops and injured 24 more.
Operation Atlantic Resolve was designed to reassure NATO allies and partners in the region after Russia invaded Ukraine.
Read alsoPoland welcomes U.S. troops as part of NATO buildup (Photo)The 3rd ABCT is just one aspect of America's commitment to the region, Ray said. It is a "key part of our joint land, naval, air, space and cyberspace team. Be assured, the full weight of the U.S. military stands behind these sentinels of freedom," Ray said. "Our commitment to defense is rock-solid. And we must maintain the territorial integrity of our alliance and maintain a Europe that is whole, free, prosperous, and at peace."